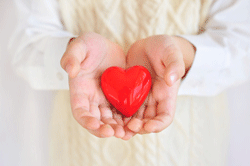 Identify the exits in your home and show your children how to get out of the house. Then conduct drills as a family so that each child knows how to safely exit your home during a fire or carbon monoxide leak.
Irving, Texas (PRWEB) February 06, 2014
When we think of Valentine's Day, we think of flowers, chocolate and cards to express our love to family members and significant others. But, while it may not seem very romantic, there's another way to express your affection – by providing a security plan to help your loved ones stay safe in emergency situations. 
Whether you're caring for people or pets, ensuring their security requires advance preparation so that everyone knows what to do in the event of an emergency. While it may not be a traditional Valentine's Day gift, putting these tips from the Electronic Security Association (ESA) into practice is a surefire way to show how much you care.
Prepare your children for emergencies with an escape plan
Instead of giving your little Valentines a short-lived sugar rush, make your gift one that could save their lives by giving them an escape plan during emergencies.
First and foremost, identify the exits in your home and show your children how to get out of the house. Then conduct drills as a family so that each child knows how to safely exit your home during a fire or carbon monoxide leak. When regularly practiced together as a family, these drills can help increase a feeling of security and make finding escape routes a force of habit for your children.
In your plan, include a safe spot—such as a neighbor's house—where your family will meet after escaping. Be sure to stress to your children that they should call 911 only after having safely escaped and that they should never return to home to retrieve pets or belongings.
Additionally, parents should prepare an emergency plan for burglary situations that could arise when the family is home. Most people assume that burglaries only occur when homes are unoccupied, but that's not always the case and criminal confrontations can be very dangerous.
In the event of a burglary, the goal is to get your family to a safe place without encountering the burglar. Show your children where to go if they hear an intruder attempt to enter the home or if the security system goes off. Explain that they should stay in their safe spot until you or a police officer comes to get them. Practice the plan as a family to ensure everyone understands what they should do.
Give your loved ones protection at home
A monitored security system installed by a reputable security company is your family's first line of defense against fire, carbon monoxide and burglary. A security system will give your family and monitoring company a warning that danger is present within your home. This advanced notice gives you time to safely escape and allows your monitoring company to quickly send first responders to your aid.
You can take the first step toward protecting your loved ones by finding a trustworthy security company to install your system. Security companies that are members of ESA are trusted within the security industry and must adhere to a strict Code of Ethics and Standards of Conduct. There are thousands of ESA members in the U.S.; find a member in your area here.
Add convenience and security to your home
Security systems are a great way to look after the well-being of your loved ones, but did you know they can also make your life more convenient? Interactive home control systems blend the elements of security and comfort to create a home that works with your lifestyle.
Home control systems bring you advanced security features that you need to protect what's important to you. For instance, a home control system complete with surveillance cameras will allow you to remotely view a live video feed of your children or pets when you aren't there. Surveillance cameras can also help you and your monitoring company verify emergency situations, which can greatly reduce your risk of having a false alarm.
The benefits of home control are endless. A home control system provides the convenience of never having to wonder if you locked the door or set the alarm – you can do it with your smart phone. In addition to comfort and convenience, your system can also save you money on your energy bills. You can make your home more efficient by using your system to manage the power use and thermostat in your home from a web-enabled device. Go to http://www.alarm.org to find an expert in your area. 
This Valentine's Day, go ahead and give flowers, chocolates and cards, but also let your loved ones know how much you really care by investing in their safety. Nothing can replace what's near and dear to your heart and with a little planning, you can help keep your Valentines safe and sound.
ABOUT ESA
Established in 1948, the Electronic Security Association (ESA) is the largest trade association representing the electronic life safety and security industry. Member companies install, integrate and monitor intrusion and fire detection, video surveillance and electronic access control systems for commercial, residential, industrial and governmental clients. In cooperation with an alliance of chapter associations, ESA provides technical and management training, government advocacy and delivers information, advice, tools, and services that members use to grow their businesses and prosper. ESA may be reached at (888) 447-1689 or on the Web at http://www.ESAweb.org.