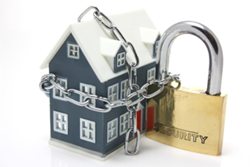 According to research from the University of North Carolina at Charlotte, nearly 60 percent of convicted burglars interviewed said that they would abandon an attack on a home if they discovered a home security system on the premises.
Irving, Texas (PRWEB) April 01, 2014
Today, millions of Americans will fall victim to harmless pranks in honor of April Fools' Day, as practical jokers run rampant making fools out of unsuspecting targets. Unfortunately, pranksters aren't the only people looking to capitalize on the naïve – burglars are searching for homeowners who aren't taking home security seriously. Unlike a lighthearted April Fools' joke, falling victim to a burglary is no laughing matter.
To keep you from becoming a home security fool, the Electronic Security Association (ESA) examines common security mistakes and provides alternatives to help protect your family from burglary.
Blame it on the dog
Many homeowners claim that a big dog is the only "security system" they need but unless your pooch is a Cujo reincarnate, it's likely that your canine companion won't give two sniffs about a stranger entering your home while you're away. An Atlanta TV station made this point recently when they unleashed a "burglar" in the homes of five dog owners and filmed each pet's reactions on hidden cameras. Each breed – from a pint-size Papillon to a stocky Rottweiler – allowed the intruder to enter the home and roam from room to room with little interference.
Instead of having to blame your pup when a burglar ransacks your home, take steps to make your home less desirable to potential burglars. Make sure your home is well-lit and your shrubbery is trimmed back to minimize hiding spots for criminals. You can also invest in timers for stereos, TVs and lights to make your home look occupied even when you're gone. This can further reduce your risk, since burglars tend to target unoccupied houses.
Shut (and lock) the front door!
Locking doors and windows is one of the easiest ways to protect your home from burglary, but it's a measure that often gets neglected. According to the FBI's 2012 Uniform Crime Report, nearly 34 percent of burglars entered premises through an unlocked door or window.
However, even if you are diligent about locking up, it still may not be enough to stop a determined burglar.
To increase the security of your home's entry points, invest in remotely controlled locks that give you the ability to lock and unlock doors from your smartphone, tablet or web-enabled device. Keyless locks also give you the power to assign temporary pass codes to people who may have access to your home while you're away, such as a contractor or housekeeper. You'll have the ability to see who's been in and out of your house, or be able to remotely assist a loved one who has been locked out.
Home security for dummies
Many homeowners bluff their home security measures by using dummy equipment such as fake surveillance cameras to deter burglars. Similar to bogus home security yard signs and window decals, burglars can tell the difference between real and fake equipment. Save yourself the trouble and leave the junk for the dummies who use it.
A better alternative is to set up a security system that has the ability to deter crime and detect trouble. New home-control technology gives you the power to look in on what's going on in your home from wherever you may be. Simply open an app on your smartphone and view a live feed from surveillance cameras around your home. You can also configure your system to send alerts to your smartphone if motion is detected or if other dangers occur, such as a house fire or flood. With this technology, you can confidently display a yard sign or window decal from your security company that will actually make burglars think twice about breaking in.
Lack of any protection
Perhaps the most foolish home security mistake you can make is not having any security measures in place. Last spring, research from the University of North Carolina at Charlotte confirmed the deterrent effect of burglar alarms. Nearly 60 percent of convicted burglars interviewed said that they would abandon an attack on a home if they discovered a home security system on the premises. In fact, homes without an alarm system installed are three times more likely to be burglarized than homes with systems.
You can find a trustworthy security company that is a member of ESA on Alarm.org. ESA members are among the most respected home security companies in the nation and must adhere to a strict Code of Ethics and Standards of Conduct that prohibit unethical and deceptive business practices. Simply visit Alarm.org, answer a few simple questions about your home security needs and get matched up with a credible local company that can create a security system that works with your lifestyle and budget.
Play pranks this April Fools' Day, but don't joke around with the safety and security of your home. Avoid becoming a home security fool by enlisting help from a trusted professional.
About ESA
Established in 1948, the Electronic Security Association (ESA) is the largest trade association representing the electronic life safety and security industry. Member companies install, integrate and monitor intrusion and fire detection, video surveillance and electronic access control systems for commercial, residential, industrial and governmental clients. In cooperation with an alliance of chapter associations, ESA provides technical and management training, government advocacy and delivers information, advice, tools, and services that members use to grow their businesses and prosper. ESA may be reached at (888) 447-1689 or on the Web at http://www.ESAweb.org.