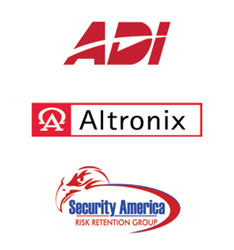 Irving, Texas (PRWEB) March 11, 2014
The Electronic Security Association (ESA) is honored to announce that ADI, Altronix and Security America Risk Retention Group have pledged their support as Silver-level Executive Strategic Partners for 2014.
Available only to ESA associate members, the Executive Strategic Partnership program was established in 2008 to provide funding in order to support ESA programs that promote and enhance the industry. As Silver-level partners, the three companies will receive valuable and powerful exposure through all available media and several events including the upcoming 2014 Electronic Security Expo (ESX) on June 22-26 in Nashville, Tenn.
ADI
ADI is a leading distributor of security and low voltage products, with 99 convenient branch locations across North America. ADI solutions include intrusion, fire, video surveillance, access, power, A/V, networking, telephony, central vac, tools & hardware, and wire & cable.
"The ESA plays an important role in the security industry and we are pleased to support them and return as an ESA Silver-level Executive Strategic Partner for 2014," said John Sullivan, senior vice president of sales at ADI.
Altronix
Altronix Corporation is a leading designer and manufacturer of low voltage electronic components. Altronix offers a comprehensive line of security, fire, CCTV, access, nurse call and automation products. In addition to producing a wide range of components, Altronix offers OEM design and manufacturing services to create custom electronics for commercial and industrial applications. Altronix serves both domestic and international markets through a worldwide network of distributors.
"We greatly appreciate the important work of the ESA to help ensure the continued prosperity of the professional security industry into the future," said President of Altronix Alan Forman. "The activities of the ESA result in many benefits for its members and security professionals across our industry."
Security America Risk Retention Group
Security America Risk Retention Group (RRG) is an insurance company that provides affordable general liability and errors & omissions insurance coverage. Developed by ESA, Security America RRG is designed to meet the needs of the electronic life safety, security, and systems professionals. Domiciled in Vermont, Security America RRG is registered in all 50 U.S. states and recently celebrated its 10th year of service.
"Security America Risk Retention Group is proud to serve as a Silver Executive Partner with ESA for another year," said Michael Keegan, president of Security America RRG. "We believe our sponsorship supports the mission of ESA, the industry as a whole, and ultimately the best interest our shareholders."
Companies interested in knowing more about the Executive Strategic Partnership program should contact ESA Vice President of Sales & Marketing Shannon Murphy at (888) 447-1689, extension 6835, or via e-mail at Shannon.Murphy(at)ESAweb(dot)org.
ABOUT ESA
Established in 1948, the Electronic Security Association (ESA) is the largest trade association representing the electronic life safety and security industry. Member companies install, integrate and monitor intrusion and fire detection, video surveillance and electronic access control systems for commercial, residential, industrial and governmental clients. In cooperation with an alliance of chapter associations, ESA provides technical and management training, government advocacy and delivers information, advice, tools, and services that members use to grow their businesses and prosper. ESA may be reached at (888) 447-1689 or on the Web at http://www.ESAweb.org.