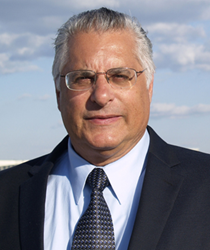 "Dom has served unselfishly, and, so many times, I've watched him put his own company's business aside to take care of ESA business first," said ESA President John Knox.
Irving, TX (PRWEB) June 27, 2014
Charles "Dom" D'Ascoli, president and CEO of Smoky Mountain Systems in Franklin, N.C., received the 2013 Morris F. Weinstock Person of the Year Award from the Electronic Security Association (ESA) on Thursday, June 27, during the ESA Annual Meeting and Industry Luncheon at the Electronic Security Expo (ESX) in Nashville, Tenn.
ESA annually gives out its highest honor in recognition of outstanding achievement and ongoing efforts by an individual on behalf of the association. First presented in 1970, the award was initiated by the family of Morris F. Weinstock to honor the lifetime work of ESA's co-founder and past president.
D'Ascoli became involved in the security industry in 1982 when he founded Smoky Mountain Systems, Inc. Shortly after its incorporation, he saw the need to become involved in the association to affect positive change.
In 1984, he joined the Georgia Electronic Life Safety and Systems Association (GELSSA) where he served three years as secretary. In 1995, D'Ascoli joined the North Carolina Electronic Security Association (NCESA) and served one term as vice president, one term as treasurer, and two nonconsecutive terms as president.
At ESA, D'Ascoli's roles have included chairman of the Standards committee, as well as being part of the Elections, Investment and National Training School (NTS) committees. In 2007, he was elected as an ESA vice president, and served in that capacity before becoming president in 2010.
ESA President John Knox said D'Ascoli's devotion to and leadership within the association led to his selection.
"I know about his dedication and the amount of time he's spent on the association," Knox said. "I've seen it first-hand, so it was a very easy decision. He's served unselfishly, and, so many times, I've watched him put his own company's business aside to take care of ESA business first."
During the luncheon, D'Ascoli was presented with an honorary Weinstock lapel pin, which is given to each award recipient to signify their distinct achievement. He also received an engraved plaque and a framed issue of Security Nation in which D'Ascoli is featured on the cover. Additionally, attendees enjoyed fun congratulatory videos followed by a brief acceptance speech from D'Ascoli. The award is graciously sponsored by Interlogix, ESA's exclusive Diamond Executive Strategic Partner.
ABOUT ESA
Established in 1948, the Electronic Security Association (ESA) is the largest trade association representing the electronic life safety and security industry. Member companies install, integrate and monitor intrusion and fire detection, video surveillance and electronic access control systems for commercial, residential, industrial and governmental clients. In cooperation with an alliance of chapter associations, ESA provides technical and management training, government advocacy and delivers information, advice, tools, and services that members use to grow their businesses and prosper. ESA may be reached at (888) 447-1689 or on the Web at http://www.ESAweb.org.
ABOUT ESX
Owned, directed and sponsored by industry leading trade associations, ESA and CSAA, ESX is the education and networking event for security integration and monitoring companies. ESX offers the highest quality and most comprehensive seminar program, the most interesting and enjoyable networking events and the most focused exposition in the industry. ESX attracts the biggest, best and most progressive installing and monitoring companies in the world to meet with hundreds of exhibiting electronic security equipment vendors and industry service providers. For more information, visit http://www.ESXweb.com.