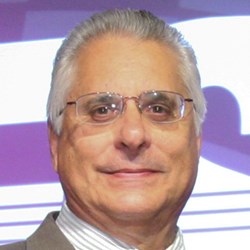 (PRWEB) January 21, 2014
On Tuesday, the Electronic Security Association (ESA) revealed Charles "Dom" D'Ascoli is the recipient of the 2013 Morris F. Weinstock Person of the Year Award during the 2014 ESA Leadership Summit in Orlando, Fla.
The prestigious award recognizes an individual who is nominated and selected by former award winners for their outstanding achievement and ongoing efforts on behalf of the association. With two stellar nominations from his predecessors, it's no secret as to why Dom was a strong candidate for this year's award: Dom embodies everything for which the Person of the Year Award stands.
Service to the community and providing leadership on local, state, and national boards has been a hallmark of Dom's professional career.
Dom has been involved in the security industry since 1982 when he founded Smoky Mountain Systems, Inc. Smoky Mountain Systems is a security system installation and monitoring company that also provides telephone system sales and service, home automation including lighting and control systems, and associated low voltage equipment and applications. 
He is also the founder and Vice President of Smoky Mountain Internet Services, Inc., a facilities based ISP and web hosting and design company incorporated in 1998, and managing partner of Unicom Communications, LLC, a competitive local exchange carrier reselling local and long distance telephone service in North Carolina and Florida since 1997. 
Shortly after the incorporation of Smoky Mountain Systems, Dom saw the need to become involved in the association to affect positive change. In 1984, he joined the Georgia Electronic Life Safety and Security Association (GELSSA) where he successfully lobbied for the passage of the current Georgia licensing requirements. He was elected secretary of the board of directors served GELSSA for three years in that capacity. 
In 1995, he joined the North Carolina Electronic Security Association (NCESA). At NCESA, he has held two nonconsecutive terms as president, a term as vice president, and a term as treasurer. For eight years, he represented NCESA on the ESA board of directors. He also served as chairman of the standards committee and sat on the elections, NTS and investment committees.
In 2007, he was elected vice president on the ESA executive committee and served in that capacity until his election as president of ESA in 2010. As president, his vision incorporated building a world-class association to serve our members by delivering exceptional value. Dom put the infrastructure and revenue in place to pave the way for future growth. He oversaw the move to new headquarters that reflect the strength and quality of ESA. The expanded space gave ESA room to increase service to our members. Because of his vision, the member service center was created and now members are able to get immediate help when they call ESA. His foresight and leadership ensured our ability to embrace companies involved in new technologies that need a place to get involved and his sound business practices positioned ESA to continue to move forward from a strong financial base. 
Throughout his career, Dom has been active in his community serving as board chair for the Macon County (NC) Department of Social Services, vice president of REACH of Macon County, past chair of the Finance Counsel at St. Francis of Assisi Catholic church, member of the Child Fatality board for Macon County, past officer and current member of Rotary International, and president of Children's Home Society of Florida. He currently works with, and supports, various wounded warrior foundations.
The Weinstock award was first presented in 1970 to honor the lifetime volunteer work of the ESA co-founder and past president. Introduced by the family of Morris F. Weinstock, this award continues to recognize volunteer leadership for ESA. The award is sponsored by Interlogix, ESA's exclusive Diamond Executive Strategic Partner. A formal presentation of the award will take place at the Electronic Security Expo (ESX) in Nashville, Tenn. on June 23-26.
ABOUT ESA
Established in 1948, the Electronic Security Association (ESA) is the largest trade association representing the electronic life safety and security industry. Member companies install, integrate and monitor intrusion and fire detection, video surveillance and electronic access control systems for commercial, residential, industrial and governmental clients. In cooperation with an alliance of chapter associations, ESA provides technical and management training, government advocacy and delivers information, advice, tools, and services that members use to grow their businesses and prosper. ESA may be reached at (888) 447-1689 or on the Web at http://www.ESAweb.org.