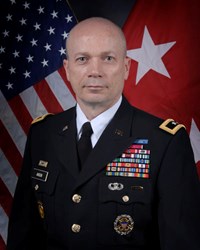 Retired Major General Doug Anson will share his thoughts on the evolution of national security since 9/11 and the effect these events have had on him, his family and the nation.
Irving, TX (PRWEB) October 25, 2013
The nation's response to the events of 9/11 and the subsequent threats have been both significant and controversial. Never in our history have we been confronted with the types of national security challenges that we have experienced in the last 12+ years.
As the keynote speaker during a full general session luncheon at the ESA 2014 Leadership Summit on Wednesday, Jan. 22, 2014, retired Major General Doug Anson will share his thoughts on the evolution of national security since 9/11 and the effect these events have had on him, his family and the nation. Anson has had the privilege of serving our country in several capacities – in uniform on the battlefield, in the hallways of the Pentagon, and as a science and technology manager at a national security laboratory. The luncheon, sponsored by Honeywell, will also feature the ESA of Florida Annual Meeting and the Sara E. Jackson Memorial Award Presentation.
"We are pleased that Major General Doug Anson (ret.) has agreed to speak at the upcoming Leadership Summit," said ESA President John Knox. "He has titled his presentation National Security Since 9/11 – A Personal Perspective and I know we will all benefit from what he has to say."
Doug Anson is currently the Director for Department of Defense (DoD) Strategic Development in the Strategic Outcomes Office at Los Alamos National Laboratory (LANL). Anson has worked at LANL for 20 years. Anson served more than 33 years in the Regular Army (RA) and the US Army Reserves (USAR) including 23 years of active duty. He is a graduate of West Point, and holds two masters degrees from Stanford University in Operations Research and Industrial Engineering, as well as a master's degree from the US Army War College in Strategic Studies. He recently retired as a Major General, US Army Reserves, after serving as the Director of Operations at the United States Special Operations Command (USSOCOM).
The 2014 ESA Leadership Summit will be headquartered at the Rosen Centre Hotel. It is formatted to appeal to security industry professionals who want their businesses to thrive, not just survive. Accordingly, the Summit will feature a robust speaker and seminar line-up to give attendees actionable and applicable takeaways that they can immediately implement. The event is sponsored by Interlogix, Honeywell, Axis Communications, Telguard, Tri-Ed Distribution, ADI, Altronix, Security America Risk Retention Group, 2GIG Technologies, Alarm.com, GEM Electronics, Intertek, I-View Now, Linear, Micro Key Solutions, OpenEye, OPTEX, Uplink, WeSuite, and Yale Locks & Hardware.
To register, go to http://www.ESA-Summit.com. For more information, call Melissa Unger at 972-807-6807. For Leadership Summit sponsorship opportunities, please contact Shannon Murphy at Shannon.Murphy(at)ESAweb(dot)org or call her at 972-807-6835.
ABOUT ESA
Established in 1948, the Electronic Security Association (ESA) is the largest trade association representing the electronic life safety and security industry. Member companies install, integrate and monitor intrusion and fire detection, video surveillance and electronic access control systems for commercial, residential, industrial and governmental clients. In cooperation with an alliance of chapter associations, ESA provides technical and management training, government advocacy and delivers information, advice, tools, and services that members use to grow their businesses and prosper. ESA may be reached at (888) 447-1689 or on the Web at http://www.ESAweb.org.