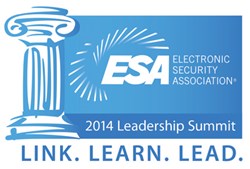 Irving, Texas (PRWEB) November 06, 2013
The Electronic Security Association (ESA) continues to add business professionals to its already impressive speaker roster for the 2014 ESA Leadership Summit to be held on Jan. 19-22 in Orlando, Fla. Recently, ESA announced Tracy Larson and Matt Krebs as the newest additions to the growing list of sessions.
Tracy Larson is partner and president of WeSuite, a sales management software provider to the electronic security industry. With more than 20 years of experience, Larson is both knowledgeable and passionate about improving the sales process for businesses. In her session entitled "Business Street Smarts: How Sales Intelligence Can Transform Your Business," Larson will review the use of sales CRM software to provide real-time sales intelligence through case studies from three different perspectives: owner/executive manager, sales manager and salesperson.
By presenting the information using real-life scenarios, attendees in all capacities will walk away with the ability to apply data gathered through the sales process to make proactive business decisions. The session, which is sponsored by Honeywell, will be held on Wednesday, Jan. 22 at 2:15 p.m.
Director of Security Sales for the Americas with Xtralis Matt Krebs has been in the security industry for more than 20 years and has experience in nearly every facet of security. His session entitled "The ABCs of Driving RMR through a VSaaS Model: It's Easier than You Think!" will exclusively focus on remote video surveillance as a service. It will be held at 10 a.m. on Tuesday, Jan. 21, and will show attendees how to derive new incremental streams of RMR through Video Surveillance as a Service (VSaaS). Krebs will give an overview of VSaaS options and the steps to successfully integrate this service into existing businesses.
Larson and Krebs are just two of the many session speakers that compose this year's Summit schedule, which is focusing on business intelligence for growing companies. It will be headquartered at the Rosen Centre Hotel. Those planning to attend can make their reservations now by clicking here.
The event is sponsored by Interlogix, Honeywell, Axis Communications, Telguard, Tri-Ed Distribution, ADI, Altronix, Security America Risk Retention Group, 2GIG Technologies, AlarmBiller, Alarm.com, GEM Electronics, Intertek, I-View Now, Linear, Micro Key Solutions, Monitor America, LLC, OpenEye, OPTEX, Uplink, WeSuite, and Yale Locks & Hardware. 
To register, go to http://www.ESA-Summit.com. For more information, call ESA's Member Service Center at 972-807-6801. For Leadership Summit sponsorship opportunities, please contact Shannon Murphy at Shannon.Murphy(at)ESAweb(dot)org or call her at 972-807-6835.
ABOUT ESA
Established in 1948, the Electronic Security Association (ESA) is the largest trade association representing the electronic life safety and security industry. Member companies install, integrate and monitor intrusion and fire detection, video surveillance and electronic access control systems for commercial, residential, industrial and governmental clients. In cooperation with an alliance of chapter associations, ESA provides technical and management training, government advocacy and delivers information, advice, tools, and services that members use to grow their businesses and prosper. ESA may be reached at (888) 447-1689 or on the Web at http://www.ESAweb.org.