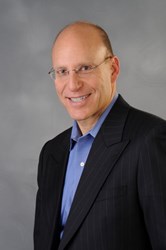 I have seen Steve Bookbinder and his approach to sales and sales management transform companies ranging from smaller entrepreneurially run businesses to Fortune 100 companies.
Irving, Texas (PRWEB) October 18, 2013
Steve Bookbinder believes selling is harder today than it has ever been. One reason is because there are more competitors – traditional and non-traditional – creating more chatter and making it harder to get customers to focus. Sponsored by Telguard, Bookbinder's keynote address on Wednesday morning, January 22, will focus on the importance of having a sales culture of responsibility, based on a strong sales pipeline management process. He will focus on both a strategic approach to sales as well as some of the tactics needed to be effective in sales and sales management.
He'll also provide key takeaways that include what your sales pipeline should look like; how to build the ideal pipeline; the "right prospects"; first appointments and the 25%, 50%, 90% Prospect Management System; and how to set your expectations and know your sales cycle.
Bookbinder, CEO of Digital Media Training, is a leader in delivering training that treats sales as a competitive sport and changes behavior needed to help sellers consistently win. He has turned his background of stand-up comedy, improvisational acting and competitive swimming into a global training company, honing his motivational messages through his latest books, "How to be Your Own Coach" and "Leverage Your Laziness."
Steve Firestone, Select Security executive vice president and member of the Leadership Summit Advisory Group, said, "I've had the pleasure of knowing and working with Steve Bookbinder for the past 20 years. I have seen him and his approach to sales and sales management transform companies ranging from smaller entrepreneurially run businesses to Fortune 100 companies. His presentations and seminars are engaging, thought provoking, and cause leaders to really think about what they need to do to be successful. Plus, he's a standup comedian to boot."
Following his keynote address, Bookbinder will lead a session entitled "New Business Prospect/Pipeline Management Techniques" that will drill down on the fundamentals associated with sales and prospect management criteria used to establish an effective new business pipeline that will help managers establish a culture within their sales organization that focuses on a common language and accurate forecasting models.
The 2014 ESA Leadership Summit will be headquartered at the Rosen Centre Hotel. It is formatted to appeal to security industry professionals who want their businesses to thrive, not just survive. Accordingly, the Summit will feature a robust speaker and seminar line-up to give attendees actionable and applicable takeaways that they can immediately implement. The event is sponsored by Interlogix, Honeywell, Axis Communications, Telguard, Tri-Ed Distribution, ADI, Altronix, Security America Risk Retention Group, 2GIG Technologies, Alarm.com, GEM Electronics, Intertek, I-View Now, Linear, Micro Key Solutions, OpenEye, OPTEX, Uplink and Yale Locks & Hardware.
For information about the 2014 ESA Leadership Summit, go to http://www.ESA-Summit.com or call Melissa Unger at 972-807-6807. For Leadership Summit sponsorship opportunities, please contact Shannon Murphy at Shannon.Murphy(at)ESAweb(dot)org or call her at 972-807-6835.
ABOUT ESA
Established in 1948, the Electronic Security Association (ESA) is the largest trade association representing the electronic life safety and security industry. Member companies install, integrate and monitor intrusion and fire detection, video surveillance and electronic access control systems for commercial, residential, industrial and governmental clients. In cooperation with an alliance of chapter associations, ESA provides technical and management training, government advocacy and delivers information, advice, tools, and services that members use to grow their businesses and prosper. ESA may be reached at (888) 447-1689 or on the Web at http://www.ESAweb.org.