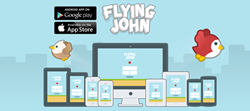 Stefan Gaasbeek, owner of G-Projects said of the Flying John launch, "With Flying John - The Flappy Adventure players will never get bored!"
Amersfoort, Utrecht, The Netherlands (PRWEB) May 09, 2014
G-Projects, a Dutch online entertainment publisher, released Flying John, which was created by game guru Stefan Gaasbeek. Previously only available on Web and Android, the game is now available in the Apple App Store, so more people can enjoy the gaming experience.
Flying John encompasses various new features that were not available in Flappy Bird Online, including the option to customize the experience and the ability to purchase new birds. The updates allow users to have an enjoyable, personalized gaming experience.
With feedback from Flappy Bird Online players, G-Projects were able to create a more enjoyable game that features many of the suggestions gamers provided. The game is expected to rise in popularity with the ability to play on iPod, iPhone and the iPad.
Players can find the game in the Google Play Store under the name Flying John, and in the Apple App Store the name of the game is Flying John - The Flappy Adventure. Flying John is completely free to play, but you can purchase some items within the game for real money.
About G-Projects
Twins Stefan and Erwin Gaasbeek founded G-Projects in the Netherlands in 2007. Their goal was to create enjoyable games and to provide entertainment to the public, and their success arose when FlappyBird.com was created.
Flappy Bird Online is not associated with Dong Nguyen and .GEARS Studio.
For more information, visit http://www.flyingjohn.com or http://www.flappybird.com.