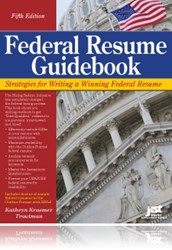 "The pay is competitive and the job security is unrivaled. These positions will go to only those candidates who successfully navigate the intricacies of the federal application process." Kathryn Troutman President, The Resume Place
Baltimore, MD (PRWEB) February 14, 2014
Ballooning eligibility for retirement among civil-service workers will open thousands of professional and technical jobs in the coming years, according to The Resume Place's analysis of Recent Trends in Federal and Civilian Employment, a January 2014 report from the General Accountability Office. Federal retirement rates have rebounded quickly from their recession low of 2.5 percent in 2009 to 3.5 percent in 2012.
The jobs to be created will be overwhelmingly in the professional, technical and executive ranks, rather than clerical. "Today's federal jobs require more advanced skills at higher grade levels than federal jobs in years past," the report says.
"There will be many, many job openings with the U.S. government that professionals in the private sector should consider," says Kathryn Troutman, president of The Resume Place, a resume writing and federal job-search coaching firm. "The pay is competitive and the job security is unrivaled. These positions will go to only those candidates who successfully navigate the intricacies of the federal application process."
Notwithstanding the recession and numerous spending cuts, federal civilian employment grew by 14 percent from 2004 to 2012. Although the net federal workforce shrank in 2013 and is projected to continue that trend, retirements are expected to accelerate rapidly, creating many new employment opportunities. By September 2017, nearly 600,000 federal civilian workers, most in professional occupations, will be eligible to retire.
Some federal occupations will see remarkably high retirement eligibility rates by 2017. Of program managers at midsize CFO Act agencies, for example, 55 percent will be able to retire, the GAO report says.
The Small Business Administration, the Department of Transportation, and the Department of Housing and Urban Development lead the field of federal organizations in terms of looming retirements; in each, 40 percent or more employees will be eligible to retire by 2017, according to an analysis by The Resume Place. A public affairs specialist job with the SBA in Glendale, Calif., recently posted on USAJOBS.gov paid up to $119,668; a regional administrator posting at DOT in Fort Worth, Texas, ranged to $172,300; a mortgage banking analyst position in Washington, D.C., paid up to $116,901.
Over the reporting period, three other federal agencies led in terms of separations rate, which includes resignations and other departures in addition to retirements, The Resume Place's analysis shows. The Office of Personnel Management placed first at 10.9 percent, followed by the Department of Commerce (8.6 percent) and the Department of Treasury (8.2 percent). An investigations case analyst job with OPM in Boyers, Pa., was recently posted at up to $51,918; Commerce was looking for a computer scientist for its Gaithersburg, Md., office at up to $98,305; the Treasury Department's Bureau of Engraving and Printing in Washington, D.C., was paying up to $157,100 for a chief of product development to help create new banknotes.
Spending on compensation, including benefits, for the typical full-time federal worker increased by an average of 1.2 percent per year, from $106,097 in 2004 to $116,828 in 2012, according to the report. And there's good news for federal employees present and future: A post-recession pay freeze for civilian workers has ended, so they will receive an automatic raise in 2014.
"We're seeing that the federal agencies that enjoyed the highest annual average pay-and-benefits increases were all international in scope," says Troutman. "USAID employees came in at 2 percent, Homeland Security workers averaged nearly 3 percent, and the Department of State came out on top at about 4.5 percent."