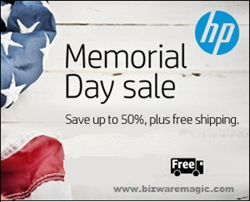 Savvy online shoppers can save up to 50% on popular HP laptops/desktops/printers with these Memorial Day Sale coupons.
(PRWEB) May 22, 2014
New HP Memorial Day Sale coupons and discounts have just been listed on the Bizwaremagic.com, a 12-year-old small business solution site that operates a convenient Laptop Buyer's Guide for its visitors and patrons. Alert online shoppers can receive up to 50% off popular Hewlett-Packard laptops, desktops and printers just by utilizing these coupons.
The current Memorial Day offers are valid from May 21st through to May 31st, but please note quantities are limited and discounted items may end at any time. Free shipping is also offered on most items but see the official HP site for all terms and conditions of this sale. As with any HP sale, these discount coupons are divided up or classified into four groups: general, laptop, desktop and printer coupons.
Some of the featured "general offers" include the following: Get $10 off on a $60 purchase of select HP products and save an additional $75 instantly on the purchase of select customized HP PCs priced $999 or greater. Plus, get an additional $15 off your online order of $75 or more at the HP Home and Home Office Store.
HP laptop sale coupons include the following: Save $200.00 on the HP Pavilion 15t-n200 Notebook PC with Windows 7 for around $549 - the lowest price ever for this model. Get $150 off the HP ENVY 15t-j100 Quad Edition laptop for $649.99 and receive up to $220 off the HP ENVY TouchSmart 17t-j100 Quad Edition Notebook PC priced at $779.99. In addition, save $450 off the HP ENVY 17t-j100 with Leap Motion priced at around $1,099.
Desktop coupons include the following: Get $30 off the HP Pavilion 500-205t Desktop PC with Windows 7 priced at around $469 and save $200.00 on the HP ENVY Phoenix 810-135qe Desktop PC with Windows 7 - selling for $949.99. In addition, shoppers can get $170 off the HP ENVY 700-215xt Desktop PC with Windows 7 for around $679 and receive $500 off the HP ENVY 700-230qe Desktop PC priced at $1,299.99.
HP printer discounts include the following coupons: Exclusive in-cart savings of $60 on the HP Officejet 6600 and save $40.00 on the HP Photosmart 6520 e-All-in-One Printer priced at around $109. Plus, save $50 on the HP Color LaserJet Pro MFP M177fw which is priced at Only $299.99.
Holidays, like Memorial Day, are great times to take advantage of discounts and special deals mainly because many companies and retailers go that "extra mile" to attract additional business on those days. The current HP Memorial Day Sale is a perfect example and online shoppers can reap the benefits if they act swiftly.
The special Bizwaremagic HP Notebook Coupons Page can be found here: http://www.bizwaremagic.com/HP_Notebook_Coupons.htm or download our comprehensive free laptop buying guide here: http://www.laptopcomputerguide.org All products/companies mentioned above are registered trademarks of their respective owners and companies.