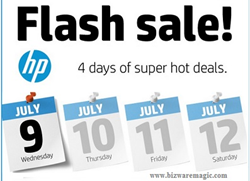 HP is offering flash sales for the next four days - customers can get the lowest prices on top-selling laptops, PCs, and accessories.
(PRWEB) July 09, 2014
The latest HP Flash Sales are being listed on Bizwaremagic.com, a well-established 12-year-old site which caters to small business owners and online e-commerce marketers. The flash sales run from July 9 to July 12th and on each day new attractive deals are offered to potential customers.
Hewlett-Packard is offering some of the lowest prices ever on top-selling laptops, PCs, and accessories. Customers will have to act quickly if they want to take advantage of these bargains that are only available on the given date.
For the convenience of these HP customers and Bizwaremagic subscribers - listed below are the three deals offered for each date. Keep in mind, these discounts will only appear on the appropriate date and not before.
Wednesday July 9th Deals:
Save 15% on the HP Pavilion 17z Touch.
Get $100 off the HP 110t desktop PC.
Receive 50% off the HP S6000 black portable mini Bluetooth speaker.
Thursday July 10th Deals:
Save $220 on the HP Pavilion 15t-n200 notebook PC with Windows 7.
Get $170 off the HP ENVY 700qe desktop PC.
Receive 45% off the HP 15.6-inch Premier 3 blue backpack.
Friday July 11th Deals:
Save $250 on the HP ENVY 17-j184nr notebook PC.
Get $300 off the HP ENVY Phoenix 810se desktop PC.
Receive 33% off the HP Wireless Mouse and keyboard combo kit.
Saturday July 12th Deals:
Save $220 on the HP ENVY 15t-j100 Quad Edition Notebook PC with Windows 7.
Get 20% off the HP ENVY Recline 23-k110 TouchSmart All-in-One desktop PC.
Receive $45 off the HP H7000 black Bluetooth wireless headset.
As an ongoing feature of its Laptop Buyer's Guide, Bizwaremagic.com regularly lists all the latest online computer deals/coupons for its subscribers and visitors. Potential HP buyers should bookmark this page because they can save money by simply clicking the appropriate link or using the discount coupons at checkout. Customers should also see the official HP site for all terms and conditions.
The dedicated Bizwaremagic HP Notebook Coupons Page can be found here: http://www.bizwaremagic.com/HP_Notebook_Coupons.htm or download our comprehensive free laptop buying guide here: http://www.laptopcomputerguide.org. All products/companies mentioned above are registered trademarks of their respective owners and companies.