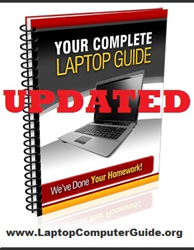 Alert holiday shoppers can use our handy Laptop Computer Buyer's Guide to get much-needed information and the latest online discounts.
(PRWEB) October 29, 2014
The Bizwaremagic.com site updates its handy Laptop Computer Buyer's Guide for 2014, just in time for the upcoming holiday season. This comprehensive laptop and computer guide supplies all the needed information one must have to make a wise computer purchase. While being an integral part of Bizwaremagic, the notebook guide has its own separate domain: http://www.laptopcomputerguide.org where potential visitors/shoppers can download a free copy.
Recent updates include featured reviews of top performance gaming laptops such as Alienware 17, MSI GT70 Dominator 895 and ASUS ROG G750JZ-DS71. As well as compiled reviews of the new Alienware Area-51 desktop PC and the new Alienware Alpha gaming console. Additional timely content is regularly added so that subscribers can benefit from the latest information.
In addition to the helpful computer hardware information, subscribers and users of this guide receive access to all the latest online discount coupons from major computer manufacturers/retailers such as HP, Dell, Toshiba, Lenovo, Alienware... and many more. These discounts will include all the major offers during Black Friday and Cyber Monday from these computer makers.
For the first time, shoppers can now take advantage of this guide to shop directly on the Bizwaremagic.com site (via Amazon) for their favorite laptop or PC. Quality hand-picked laptops are listed in the Amazon Store so readers can quickly find what they are searching for in order to make their next computer purchase.
For over ten years this Laptop Computer Guide has been helping shoppers find the information they need in order to make a wise choice. It has also helped thousands of those same computer buyers find some of the best online discount bargains in order to save money off their next computer purchase. This Laptop Guide looks forward to helping more people, well into the future.
Our comprehensive Laptop Computer Buyer's Guide can be found here: http://www.laptopcomputerguide.org All products/companies mentioned above are registered trademarks of their respective owners and companies.