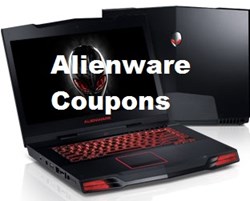 Buyers can receive an extra $100 off popular Alienware 14, 17 and 18 gaming notebooks.
(PRWEB) January 07, 2014
New Alienware gaming laptop coupons have just been added to the Bizwaremagic.com site, which runs a handy online laptop buyer's guide for its visitors and patrons. Interested buyers can get an extra $100 off select Alienware gaming notebooks priced at $1499 or above by using the appropriate online coupons.
The latest offers include $100 off Alienware 14-inch and 17-inch gaming laptops, with free shipping. The current offers run from 1/6/2014 to 1/23/2014 6am. Other conditions or restrictions may be applied so see the official Dell site for all rules and terms of these discounted items.
Alienware is often considered the premier maker of custom built high-performance gaming notebooks and desktop computers. While many gamers jokingly dismiss the whole notion of using a "laptop" for gaming, others have embraced the idea of mobile machines and mobile gaming. Regardless, any gamer worth their salt, will at least consider an Alienware product before making a final decision.
In 2013, Alienware released the new 14, 17 and 18 Haswell models of their popular lineup of notebooks, sporting the powerful 4th Generation Intel Core i5 and i7 processors. Often considered pricey by many gamers, Alienware's prices have steadily fallen over recent years and are now somewhat comparable with other makers such as MSI, ASUS and Origin. However, for a fully maxed system, gamers are still expected to pay a hefty price - which makes taking advantage of any discount coupons worth the effort.
The Bizwaremagic.com site has been running its Laptop Buyer's Guide for over 10 years. As a part of this online guide, subscribers/users can receive the latest bargains and discounts offered by the different laptop makers. While the main objective of this guide is to provide quality laptop information, the discounted offers are an extra bonus for subscribers such as these latest Alienware discount coupons.
The special updated Alienware Coupons/Discounts page can be found here: http://www.bizwaremagic.com/alienware_coupons_discounts.htm or check out these top rated gaming laptops: http://www.bizwaremagic.com/best_gaming_notebooks.htm.
All products/companies mentioned above are registered trademarks of their respective owners and companies.