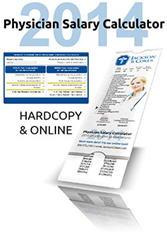 The online version of the salary tool lets hospital administrators and group practice managers calculate the revenue contribution of permanent and hourly physicians in major specialties. -- Sandra Garrett, President, Jackson & Coker
Atlanta, GA (PRWEB) May 10, 2014
National staffing firm, Jackson & Coker, has released its 2014 Physician Salary Calculator—a free tool that gives employers, recruiters and physicians quick access to the return on investment each major physician specialty offers.
The current version of the firm's physician salary calculator is developed through collaborations with outside, independent research organizations that analyze data compiled from a variety of published sources.
For the majority of medical specialties, the calculator shares hourly and annual compensation averages, revenue, population count and estimated contribution to operations.
"Our calculator helps hospital executives, professional physician recruiters and group practice managers see how a primary care physician or specialist's compensation ties to their impact on the operations and revenue of the hospital," said Sandra Garrett, president of Jackson & Coker. "Physicians use the tool to validate their contributions and compensation."
The tool is available in online and printed, slide-rule versions.
According to Garrett, the online version of the salary tool lets hospital administrators and group practice managers calculate the revenue contribution of permanent and hourly physicians in major specialties. The slide rule version of the tool includes numbers of doctors providing patient care in a given specialty, in addition to statistics such as board certifications, international medical graduates, physicians nearing retirement and current medical residents.
To access the online version of Jackson & Coker's physician salary calculator, visit: http://www.jacksoncoker.com/Static/Employer/Salary-Calculator
About Jackson & Coker
For over three decades, Jackson & Coker, a leading locums and permanent placement physician employment firm, has provided doctors for a day, a lifetime, or any of life's changes in between. The firm ensures that both patients' needs and physician career goals are met and by uniting doctors with the hospitals and medical facilities that hire them.
The physician recruitment company has earned a national reputation for placing exceptionally qualified doctors in commercial and government practice physician job opportunities. Recruiters work in two divisions: permanent placement, which recruits doctors in over 40 medical specialties for permanent physician jobs, and locum tenens, a staffing model that recruits physicians for temporary doctor jobs. With a broad range of physician staffing experience in all specialties including Psychiatry jobs, Hospitalist jobs, Internal Medicine jobs, Surgery jobs, Family Practice jobs, Anesthesia jobs and Radiology jobs, Jackson & Coker specializes in jobs for physicians at any stage of their professional career.