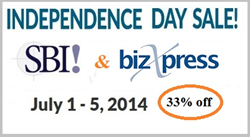 This Independence Day get 33% off popular web hosting packages from Ken Evoy's SBI!
(PRWEB) July 01, 2014
Discover the true nature of Independence Day by examining Ken Evoy's SiteBuildIt and bizXpress e-commerce solutions says Bizwaremagic.com, a 12 year old small business site. SBI and bizXpress are popular web-hosting packages offered by Ken Evoy's SiteSell program which offers anyone a solid way to build an online business.
For the novice webmaster or business start-ups, SiteSell is not only a step-by-step system to build a website, but also teaches all the procedures/steps to follow in order to create a viable online business. It has helped thousands of ordinary people accomplish their objective of building a profitable online business and fulfill their dream of obtaining a "work-at-home" lifestyle.
"SiteSell is a great way to build a website because it gives one all the basic fundamentals in a step-by-step program," says Titus Hoskins, a former teacher who now runs the Bizwaremagic.com site. "SBI has many advantages, but for me, one of its strongest features is the very active online community/forum which is more than willing to help out the beginning and/or seasoned webmaster."
For the first time, SiteSell is offering an Independence Day Sale (which runs from July 1st - 5th, 2014) and potential buyers can receive 33% off the regular hosting prices. This means customers can get a full year of SBI! for $199 (regularly $299) or one full year of bizXpress for $99 (regularly $149). For those not familiar with SiteSell, bizXpress is the fully integrated WordPress hosting package which can be easily set up using this popular blogging system.
Site Build It was launched in November, 1997 and has become a proven way to build an online site/business for anyone willing to put the time and effort into creating a part-time or full-time income. Celebrate this Independence Day by examining the many benefits of pursuing an online business through SBI! or bizXpress.
Bizwaremagic.com is a 12 year old online small business solutions site, which has been promoting SiteSell for well over 10 years. This web building program has become one of our most popular hosting packages, and potential customers can find our first-hand review of SBI here: http://www.bizwaremagic.com/site_build_it_review.htm All products/companies mentioned above are registered trademarks of their respective owners and companies.