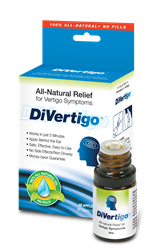 "The number of people who experience vertigo on a daily basis is astounding," says Ocean Global CEO, Jamie Petersen. "They are starving for more information on how to normalize their lives and they are looking for natural solutions without side effects."
Tampa, FL (PRWEB) March 19, 2014
Ocean Global, a company that focuses on all-natural products, recently released a new vertigo education blog with articles for people who suffer from vertigo. Vertigo is a hot topic because so many medical conditions list vertigo as one of their primary symptoms. According to MacGill University, over 70 million people in North America suffer from vertigo and dizziness, affecting their daily activities.
Vertigo is the ongoing, often episodic, sense that either you or your environment is moving when, in fact, everything is still. The experience typically includes nausea, sweating, abnormal eye movements, a loss of equilibrium and a strong spinning sensation. These feelings can be very overwhelming, especially when they are experienced on a daily basis. Vertigo has numerous causes such as allergies, dehydration, migraines, ear infections, and many others.
Ocean Global's new blog shares articles written about vertigo symptoms to help those who experience it learn more about it. Articles include subjects like "Is Vertigo Hereditary?" and "How to Prepare for a Vertigo Attack on the Go". Because vertigo can be experienced by anyone of any age or gender, the blog covers a wide variety of topics.
In particular, persons over age 50 will find useful information in many of the articles since they are more likely to experience vertigo. According to Pew Research Center, 10,000 baby boomers every day turn 65 years old in the United States and this group will continue to grow at that rate for the next 17 years. With the population of the United States aging quickly, more and more people are likely to experience vertigo and find relevant information in this vertigo-focused blog.
"The number of people who experience vertigo on a daily basis is astounding," says Ocean Global CEO, Jamie Petersen. "They are starving for more information on how to normalize their lives and they are looking for natural solutions without side effects."
To celebrate the launch of the new blog, Ocean Global is offering a limited time $2 off coupon that can be used to trial the natural calming relief of DiVertigo. To receive the coupon and learn more about the limited-time offer, interested parties can visit their website: http://www.di-vertigo.com.
OCEAN GLOBAL
Ocean Global, founded in 1998, works with herbal products in order to provide safe and effective alternatives for the health market. Their products are formulated unique combinations of essential oils to provide quick and natural calming relief from everyday symptoms like vertigo, without side effects. Much of Ocean Global's success comes from working with only the highest quality ingredients and their outstanding customer service. Their products Motioneaze and DiVertigo can be found in large national chains like Walmart and CVS pharmacies. They may also be purchased online at their respective web sites—di-vertigo.com and motioneaze.com.