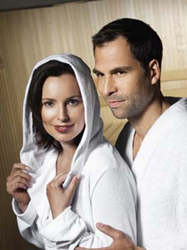 Keith Raisanen, president of Finnleo, has said, "Sauna not only feels good, it is good for you."
Cokato, MN (PRWEB) February 25, 2014
Winter brings with it many beautiful things, but it also tends to see an increase in medical conditions, from increased colds to dry skin and many in between. Though some of these are caused by the cold and wind, many of these winter maladies occur from spending more time in confined spaces with recirculated, dry air, and limited exposure to the sun and fresh air. Commercials for common cold and flu medicine as well as skin lotion increase during this time of year, yet a more natural solution is often overlooked. Heat bathing, particularly traditional and infrared sauna, have been shown to help reduce the occurrence of many winter ailments. As Keith Raisanen, president of Finnleo, has said, "Sauna not only feels good, it is good for you."
As Hippocrates has been credited as saying, "Give me a fever, and I can cure any disease." When ill, the body attempts to fight the illness through fever. In most cases, the fever, increased white blood cell count, and resulting perspiration for body temperature regulation help to rid the body of the infection. Similarly, inducing a fever by raising the core body temperature and perspiring will help increase white blood cell counts and help stave infections and illnesses by creating an uninhabitable environment for the bacteria or virus. Both traditional and far-infrared saunas can help a person achieve this temporary increased core body temperature to reduce the risk of illness. When followed by a cold shower, studies have shown an increase in glutathione, an antioxidant, which helps the body repel illness.
While illness is a primary concern for many, dry skin sufferers also benefit from heat bathing and perspiration, as the skin is renewed and refreshed. The dry air of a furnace is often credited for contributing to dry skin, so using a sauna seems counter-intuitive for promoting healthier skin; however, as the body temperature increases, blood rushes through the body and close to the skin to help cool the body. As perspiration is released through the pores, dirt and bacteria are removed from the pores and the skins natural oils are brought to the surface of the skin helping to make the skin more supple. Regular use of a sauna may reduce the need for lotions and moisturizers.
To learn more about the many health benefits of sauna, contact Finnleo at 1-800-FINNLEO (346-6536) or visit a local Finnleo dealer.