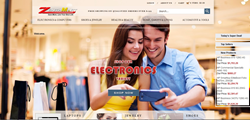 From one business to others, we're proud to offer savings that can directly improve our customers' bottom lines in a positive way.
New York, NY (PRWEB) June 03, 2014
Small businesses are considered the backbone of America's economy. That's why ZenithMart, America's fastest-growing online retailer, is pulling out all the stops to help companies manage their bottom lines better with affordable small business laser printers.
From wireless color laser printers to all in one color laser printers that double as scanners and fax machines, the online store's electronics department offers major savings on some of the most-trusted brand names in the industry. Prices on some models are hundreds off list, saving small businesses a bundle on products they need daily.
"As a business owner myself, I fully understand the need to save wherever possible," explained Tochukwu Mbiamnozie, ZenithMart's CEO, founder and president. "For some companies, multifunction laser printers can represent significant investments. We've set our prices low on small business laser printers simply to lend a well-deserved hand."
Browse ZenithMart's inventory and small business shoppers will find a wide selection of laser printer printers, accessories and more. To serve small businesses better, the company offers:

Desktop models – These smaller laser printers wireless models are affordable and compact, providing a simple way to ensure anyone who needs access to a personal printer at work can have one.
All in one designs – Offering a smart option to replace several machines, color laser all in one printers offer fax, copying and scan features to make doing business more affordable.
Heavy duty models – For companies that have a high volume of print job on a daily basis, these laser wireless printers are hard to top.
Accessories – While an affordable price on wireless laser all in one printers is important for most small businesses, the savings won't last long if ink and other accessories aren't also affordable and readily available. That's why ZenithMart offers a wide selection of products meant to support the printers it sells.
"Even the smallest mom-and-pop business should be able to afford the best color laser printers to help them with day to day operations," Mbiamnozie said. "Having the ability to produce professional grade printed materials in-house can represent a significant savings to a small business and that's an advantage we are proud to offer our customers."
Color laser printers aren't the only products in ZenithMart's line that can represent savings for small business owners and individuals alike. The company also boasts an extensive line of computers, laptops and other consumer electronics. In addition, it offers direct access to a wide selection of business machines and supplies for office maintenance.
"From one business to others, we're proud to offer savings that can directly improve our customers' bottom lines in a positive way," Mbiamnozie said.
To find out more about ZenithMart, visit the company online at http://www.zenithmart.us.
About ZenithMart
Founded in 2012, ZenithMart is on a mission to change the way America shops. Specializing in computers, general merchandise and small business laser printers, the retailer stands out from the competition because of its high quality selection, secured shopping experience, price savings and exemplary customer service. Since its website went live in late 2013, ZenithMart has become one of America's fastest-growing online shopping portals.