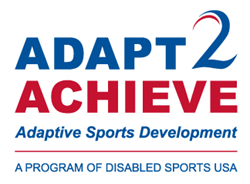 Rockville, MD (PRWEB) April 30, 2014
Disabled Sports USA's Adapt2Achieve program (A2A) will offer a three day adaptive training conference to nearly 50 adaptive instructors and staff from 25 Disabled Sports USA (DSUSA) chapters, VA hospitals and disability sport organizations. The conference, hosted at Lakeshore Foundation, a chapter of DSUSA and a U.S. Olympic and Paralympic training site, will take place April 30 through May 3 and feature non-profit administrative seminars and training sessions on how to run and improve adaptive track and field programming. Sessions will be presented by industry leaders, expert coaches and former Paralympians.
"Disabled Sports USA is delighted to host this adaptive sports conference at Lakeshore Foundation that will bring together instructors and staff who are committed to providing quality adaptive sports instruction for individuals with disabilities, including wounded warriors and youth with disabilities," said Kirk M. Bauer, JD, executive director for Disabled Sports USA. DSUSA's Adapt2Achieve program aims to enable DSUSA chapters and disability sports partners to provide improved program services to local communities. DSUSA offered complimentary registration, training, certification, meals and housing to instructors, volunteers and staff from DSUSA chapters.
For more information on the conference, click here.
About Disabled Sports USA
Founded in 1967, Disabled Sports USA is a 501 (c)(3) charitable organization that provides opportunities for individuals with disabilities to develop independence, confidence and fitness through participation in sports. What began as a program to serve Vietnam veterans has since grown into one of the nation's largest multi-sport, multi-disability organizations, annually serving more than 60,000 wounded warriors, youth and adults with disabilities. A member of the U.S. Olympic Committee, Disabled Sports USA offers programs in more than 40 summer and winter sports through its nationwide network of more than 100 community-based chapters. For more information, visit http://www.disabledsportsusa.org.