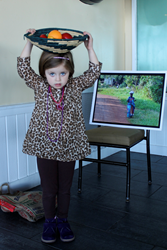 "It is our belief that children have a natural ability to empathize and the desire to help others. By allowing them to experience a piece of a child's life in Uganda, we seek to foster a lifelong commitment to volunteerism and philanthropy."
New York, New York (PRWEB) October 14, 2014
Social Promise – a nonprofit which works to assist the people of northern Uganda – will teach about Ebola virus during its very popular "African Adventure: Imagine Uganda", on October 19 at Temple Israel from 3:00 to 5:00 p.m. This annual educational event for children and families includes interactive stations, art, and musical activities designed to teach about life in rural northern Uganda. At this year's event a special section will focus on the impressive manner in which Social Promise's Ugandan nonprofit partner, Lacor Hospital, handled the 2000 Ebola outbreak – which was the largest Ebola outbreak prior to the current epidemic. For more information about the event visit the Social Promise website at http://www.socialpromise.org.
Executive Director Sharon Crary founded Social Promise after she spent time at Lacor Hospital in Uganda as part of the International Ebola Response Team in 1999 and 2000. "The extraordinarily high-level health care options offered by Lacor were all the more remarkable given that the hospital had, at that point, operated in the midst of some of the worst rebel activity in the world and in one of the poorest places you can imagine, for over two decades," says Crary. "It was impossible to leave Lacor, return to the U.S., and not take action to support the hospital."
Crary – who has published an op-Ed about her experience with an Ebola outbreak in the Long Island Press and been interviewed by Nadia Drake of WIRED for an article about essential Ebola information – will be present at this year's African Adventure to teach about how Lacor Hospital contained an Ebola outbreak by working with the people in its community as well as with international partners. She will also answer questions about Ebola virus symptoms and transmission.
The Ebola corner of this year's "African Adventure" represents only a subset of the activities available to children in attendance. "Children are natural humanitarians," says Social Promise co-founder and Director, Sarah Herschbach McGee. "Children innately know that they aren't to blame for any of the problems in the world and they are excited to help it change for the better. At Social Promise, we teach children about disparities in the quality of life around the world, but we do it in with an optimistic tone. The African Adventure gives children the knowledge they need to channel their altruism and make a difference."
Funds raised through the event support Social Promise's nonprofit partners in Uganda, who provide health and educational resources to unthinkably poor people, with an emphasis on vulnerable women and children. The current two partners are St. Jude Children's Home and Lacor Hospital, two well-established Ugandan non-profits that were vetted through a formal application process, report regularly to Social Promise, and undergo annual site visits by Social Promise.