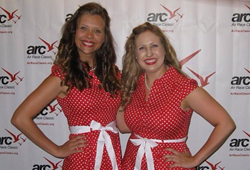 I hope it empowers other females to know that we can do it!
Tulsa, OK (PRWEB) June 03, 2014
Local pilot, Emily Applegate along with co-pilot, Zia Safko, will soar across the country in their small airplane as they compete in the 2014 Air Race Classic (ARC) this summer which begins June 16th in Concord, California and spans over 2,338 nautical miles.
Racers will undergo briefings, flight planning, and fly-by study prior to take off. The race is an annual all female pilot air race in which pilots race against their own best speed in the plane of their choice. There are, however, limitations: the small aircraft must be "stock" models and have their handicap speed identified with a check pilot. They will zoom through ten intermediate stops in four days enroute to New Cumberland, Pennsylvania in the quest for the fastest time.
This is the third Air Race Classic for Emily Applegate, Pilot as she has logged 600 hours in the air.
The ARC carries on the long tradition of women's air racing that dates back to 1929. Air racing became popular in the 1920's, but women pilots were forbidden to race against the men in that era, so the ladies started their own. This year's ARC will have fifty-two teams and over one hundred female pilots compete for the championship title. Emily is flying the race for the excitement, the thrills and the joy it brings. Said Emily, "As a Racing Rosie, I hope it empowers other females to know that we can do it!"
Emily is has been a jump pilot for three years and is working on her airframe and power plant mechanic certification.
Follow the ARC teams at http://www.airraceclassic.org or via Facebook at https://www.facebook.com/AirRaceClassic.