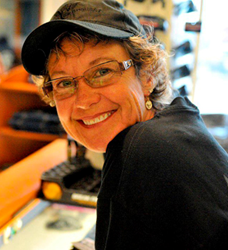 I'm racing again because it's addictive! The fellowship, fun and friendships are priceless.
Berryville, AR (PRWEB) June 10, 2014
Local pilot, Joyce Wilson will soar across the country competing in the 2014 Air Race Classic (ARC) this summer which will be held June 16–19. She is competing with teammates; Dianna Stanger and Erin Cude. The team, known as the Racing Aces is set to depart from Victoria Regional Airport early on the morning of Tuesday, June 10th.
Racers will zoom through ten intermediate stops in four days enroute from Concord, California to New Cumberland, Pennsylvania in the quest for the fastest time.
The race is an annual all­ female­ pilot air race in which pilots race against their own best speed in the small airplane of their choice. Racers will undergo briefings, flight planning, and fly­-by study prior to take off. There are, however, limitations: the aircraft must be "stock" models (no experimental) and have their handicap speed identified with a check pilot.
Joyce is the executive director of the International Defensive Pistol Association, a firearms shooting sport with 22,000 members in the U.S. and 50 foreign countries. This will be her fifth year to compete; Joyce has placed Top Ten three of those years. She is an Instrument-rated Private pilot, single-and multi-engine land, with a tailwheel endorsement and 770 hours.
"I raced the last four years to meet fellow pilots and to learn about racing. I'm racing again because it's addictive! The fellowship, fun and friendships are priceless," said Joyce. "It's a great way to learn more about my airplane as well."
Dianna of Port Lavaca, TX manages the local airport, owns a flight school and owns and flies seven aircraft, from helicopters to jets to her grandfather's biplane. This will be her fourth year competing in the race; Dianna won the Championship title in 2012.
Erin of Victoria, TX is Chief Flight Instructor at a flight school in Victoria, and has been teaching flying for eight years. This will be Erin's first year to compete.
The Racing Aces have partnered with Cirrus Aircraft™ to show their commitment to the education of women in aviation. All of the team's proceeds gained during the 2014 Air Race Classic will be put towards a scholarship for one deserving future female pilot.
The Air Race Classic carries on the long tradition of women's air racing that dates back to 1929. Air racing became popular in the 1920's, but women pilots were forbidden to race against the men in that era, so the ladies started their own.
This year's ARC will have fifty teams and over one hundred female pilots compete for the championship title in the transcontinental air race. Learn more about the race team at http://www.theracingaces.com.