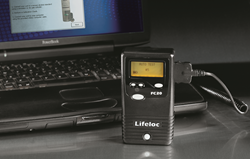 Users can isolate an individual record, a series of events or look for trends across their entire fleet of breath testers."
Wheat Ridge, Colorado (PRWEB) December 31, 2014
Lifeloc Technologies, a leading manufacturer of DOT approved Evidential and Preliminary Breath Alcohol Testers for Workplace and Law Enforcement announces the release of its new AlcoMark Breath Testing and Remote Diagnostic Software for use with Lifeloc professional breathalyzers.
The AlcoMark PC-based software enables test and calibration results stored in Lifeloc breath testers to be easily imported into the AlcoMark database, sorted, filtered and analyzed. Instrument data can be subsequently exported into Excel, XML, or Text files for further analysis and sharing.
Kelly Silverman, Director of Product Management for Lifeloc commented that "AlcoMark facilitates data-driven decision making by giving Program Administrators total access and visibility to test result and calibration data from any number of Lifeloc instruments. Users can isolate an individual record, a series of events or look for trends across their entire fleet of breath testers."
Uniquely to the industry, AlcoMark software also provides remote diagnostic and updating capabilities between Lifeloc alcohol testers and Lifeloc Factory Technical Support. Through the AlcoMark interface instrument settings can be checked and updated regardless of where the instrument is located.
Yolanda Gonzales, Lifeloc's International Business Development Manager said, "Remote users benefit from Lifeloc's advanced diagnostic capabilities by avoiding the time and expense of returning instruments to the factory or nearest service center. AlcoMark supports our commitment to providing the very best service in the industry."
AlcoMark software is available in either English or Spanish for the following DOT approved Lifeloc instruments: FC10Plus, FC20, FC20 Bluetooth, EV30, Phoenix 6.0 and Phoenix 6.0 Bluetooth. AlcoMark is compatible with Windows Vista, Windows 7, Windows 8 and Windows 8.1 operating systems.
For more information about AlcoMark please contact your Lifeloc distributor or Lifeloc at sales(at)lifeloc(dot)com or visit us at http://www.lifeloc.com.
About Lifeloc Technologies
Lifeloc Technologies (OTC:LCTC) is a trusted U.S. manufacturer of evidential breath alcohol testers and provider of drug testing products for Workplace, Law Enforcement, Corrections and International customers. Lifeloc stock trades over-the-counter under the symbol LCTC. We are a fully reporting Company with our SEC filings available on our web site.
Forward Looking Statements
This press release includes forward-looking statements within the meaning of the Private Securities Litigation Reform Act of 1995, which involve substantial risks and uncertainties that may cause actual results to differ materially from those indicated by the forward-looking statements. All forward-looking statements in this press release including statements about our strategies, expectations about new and existing products, market demand, acceptance of new and existing products, technologies and opportunities, market size and growth, and return on investments in products and market, are based on information available to us on the date of this document, and we assume no obligation to update such forward-looking statements. Investors are strongly encouraged to review the section titled "Risk Factors" in our SEC filings, available free of charge at the SEC's website (http://www.sec.gov).