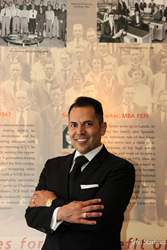 I am incredibly blessed and grateful to honor these three dynamic and admirably-talented Latinas, for whom not even the sky is the limit!"
Los Angeles (PRWEB) July 07, 2014
The ultimate pay-it-forward project is a reality.
Last year when Mark L. Madrid was named a Modern Hispanic Gentleman by Texas Monthly and Ketel One® Vodka, Madrid launched the ALPFA/Mark L. Madrid Scholarships, awarded to top Hispanic students with a minimum 3.5 GPA and majoring in business at the University of Texas at Austin and the University of Notre Dame. Hispanic graduate students enrolled in the Notre Dame Master in Nonprofit Administration program are eligible, as well. Texas's Modern Hispanic Gentlemen, a celebratory campaign, "singles out men who embody an ideal: Hispanic leaders who pursue excellence in their professional lives and are empowering social change in their community."
Madrid and the Association of Latino Professionals in Finance and Accounting (ALPFA) announced Kayleigh M. Escudero, Erica Molina, and Joselyn Gonzalez as inaugural ALPFA/Mark L. Madrid Scholars. What makes this story compelling is Madrid himself is a college graduate student, as he is six credit hours away from his Master's at Notre Dame while simultaneously serving as President and CEO at the Greater Austin Hispanic Chamber of Commerce. Escudero, Molina and Gonzalez will be recognized at the upcoming 2014 ALPFA Annual Convention in Orlando, Florida.
"I am a product of scholarship and education is the great equalizer. I am connecting the relevant dots here and paying it forward, as I am immensely grateful to God and those that paved the way for me," remarked Madrid. "This is one of the best days of my life. Definitely, my journey has not been a cakewalk. But always, I have kept the faith and barreled through. This barrel-through quality is what I see in Kayleigh, Erica and Joselyn. I am incredibly blessed and grateful to honor these three dynamic and admirably-talented Latinas, for whom not even the sky is the limit!"
Kayleigh Escudero is an IT major at the McCombs College of Business at the University of Texas at Austin and a former Salutatorian from Bishop High School in Bishop, Texas. Escudero is an alum of Subiendo: The Academy for Rising Leaders, which is summer program hosted by the McCombs School of Business. Now in its fifth year, Subiendo offers Texas high school seniors a unique opportunity to work hand-in-hand with today's business and political leaders. Escudero carries an impeccable 4.0 GPA at UT Austin.
Erica Molina will be entering her junior year at the Mendoza College of Business at the University of Notre Dame. She is a former valedictorian from Moline High School in Moline, Illinois. With a stellar 3.93 GPA, Molina serves on the Notre Dame Student Union Board, is an Illinois State Scholar and is a member of the ALPFA Notre Dame student chapter, which was founded in 2013.
Joselyn Gonzalez is on a dual-degree Master in Professional Accounting (MPA) track at the McCombs School of Business at UT Austin. Through the MPA program, Gonzalez will receive two degrees: the Bachelor of Business Administration (BBA) in accounting and the Master in Professional Accounting (MPA). She is a former Technology Director for the ALPFA Longhorn student chapter at UT Austin. Gonzalez is a Gateway Scholar through the Longhorn Center for Academic Excellence in the Division of the Diversity and Community Engagement at UT Austin.
ALPFA and the Hispanic Scholarship Fund (HSF) recognized Mark L. Madrid as one of its 39 national scholarship recipients for 2013. In April 2012 the United States Hispanic Chamber of Commerce and the University of Notre Dame Mendoza College of Business announced Madrid as the inaugural national recipient of a fellowship for Notre Dame's Master of Nonprofit Administration. The Mendoza College of Business is the only nationally-ranked business school to offer a graduate business degree designed to advance business leadership and managerial skills while keeping nonprofit executives in their jobs.
Madrid, a Jefferson Award recipient and Honorary Colonel for the U.S. Army, has always placed the highest priority on education. Having graduated Valedictorian from his high school, he continued his academic excellence at the University of Texas at Austin, where he graduated in 1995 with Honors and earned designation as an Endowed Presidential Scholar.
Connect with Mark L. Madrid at http://www.linkedin.com/in/markmadrid .