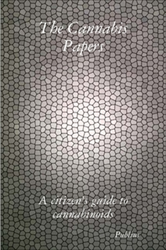 Game-changing CS news helps all of us.
Chicago, IL (PRWEB) June 30, 2014
June's cannabinoid science roundup on the Bryan William Brickner Blog highlights two game-changing articles from the National Institutes of Health (PubMed). Publius of The Cannabis Papers: A citizen's guide to cannabinoids (2011) provides the voice and "Yes We Can" expectations for this month's topic: homeostasis, the cannabinoid system (CS) and preventing Alzheimer's disease and carcinogenesis.
In Alzheimer's, Cancer and Homeostatic Cannabinoid Science, publisher Bryan W. Brickner spotlights two June 2014 research articles from PubMed.
First, how our CS modulates cognitive decline in Alzheimer's disease: β-Amyloid Inhibits E-S Potentiation through Suppression of Cannabinoid Receptor 1-Dependent Synaptic Disinhibition. Second, unveiling evidence of a previously unknown CS signaling platform ~ CB2-GPR55 receptor heteromers: Targeting CB2-GPR55 Receptor Heteromers Modulates Cancer Cell Signaling.
"Both this month offer insight," Brickner noted: "the Alzheimer's news involves the synaptic plasticity of hippocampal cells. The science notes how the CS signals to stop firing and the brain keeps firing: they refer to it as a 'reduction of endocannabinoid-mediated peritetanic disinhibition.'"
"The CS heteromer evidence enlightens as well," continued Brickner: "a heteromer consists of different biologic parts ~ two of our receptors in this case ~ CB2 and GPR55. It's the idea two can do more than one: the abstract notes the news will help clarify CS intervention in oncology."
"Game-changing CS news," closed Brickner, "helps all of us."
Brickner has a 1997 political science doctorate from Purdue University and is the author of several political theory books, to include The Promise Keepers: Politics and Promises (1999) and The Book of the Is: A book on bridges (2013). The Bryan William Brickner Blog is an ongoing resource for the political science of constitutions and the biological science of receptors.
Next time: A Homeostatic World Cup of Cannabinoids ~ Fielders Edition, Monday July 7th, on the BWB Blog.