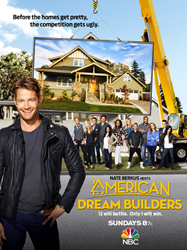 We were thrilled to have two designers incorporating our fake wood beams in their American Dream Builder room designs!Steve Barron, co-founderBarron Designs
Deer Park, NY (PRWEB) April 30, 2014
FauxWoodBeams.com announced that their fake wood products were used by two competing interior designers on NBC's American Dream Builders, Vanessa DeLeon and Dann Foley.
According to Steve Barron, President of Barron Designs, the parent company of FauxPanels.com and FauxWoodBeams.com, both designers were so smitten with the natural look of fake wood, they each incorporated it into their own Spanish-influenced room designs.
"Vanessa used our beams on the ceiling of one of her rooms, and Dann paired the Sandblasted fireplace mantel with beautiful painted tile for his assigned room. Both designers shared pictures and great feedback on Twitter, which we were extremely delighted to see. Then Pella Windows retweeted the news and congratulated us as well, which was awesome!"
Vanessa DeLeon - a lifestyle expert, interior designer and featured home renovation TV personality on HGTV, The DIY Network, etc. - is the founder of Vanessa DeLeon Associates in New York City. Her effusive feedback about FauxWoodBeams.com (with photo) can be found at: https://twitter.com/VDADesigns/status/451833091955642368/photo/1.
Dann Foley, a California-based outdoor furniture, bedding, renovation and furniture designer, was part of the intense competition of American Dream Builders through April 27, 2014. His accolades about the experience of working with FauxWoodBeams.com products (with photo) can be found at: https://twitter.com/DesignerDann/status/456497007595487232/photo/1.
Barron Designs' products were included in the April 6th episode of American Dream Builders. The show, hosted by Nate Berkus, features teams of hand-picked interior designers from across the country, competing to produce livable and long-lasting "magazine-worthy" room makeovers.
Modern fake wood products look amazingly natural because they are molded from real wood beams. The molding process captures a variety of wood grain features, including worm holes. Each beam is then hand-painted to reflect unique, realistic color variations found in real wood. Per Barron, more upscale new builds and luxury home renovation projects feature a mix of real and faux materials.
FauxWoodbeams.com has hundreds of products, styles and color options to choose from. Visit their site for dozens of creative project ideas, client feedback and "Before" and "After" photos. They have ample measuring, ordering and installation tips online or you can reach a member of their attentive Customer Service team by calling 800-651-4223.
American Dream Builders airs Sundays, 8/7c on NBC. For more information about the show, the remaining contestants, judges and host, Nate Berkus, visit: http://www.nbc.com/american-dream-builders.
About Barron Designs
Barron Designs Inc. and its subsidiaries FauxPanels.com and FauxWoodBeams.com are family-owned home improvement businesses run by siblings Steve and Ruth Barron. The Deer Park, NY companies are major suppliers of faux stone, brick and wood decorative building products for diverse residential, corporate and commercial projects - including home renovations, retail stores, offices and restaurants.
FauxPanels.com and FauxWoodBeams.com products have been featured on numerous home improvement and DIY television shows, including Curb Appeal on HGTV, Man Caves on the DIY Network, Restaurant Impossible on the Food Network, and NBC's American Dream Builders.
For more information about Barron Designs, visit BarronDesigns.com or call 800-651-4223.