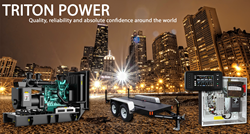 We offer a plethora of controllers with multiple methods of data retrieval. The sky is literally the limit with our cellular and web-based platforms. Brian Tienhaara - The Generator Doctor
Miami, FL (PRWEB) August 28, 2014
In our globally e-connected world it isn't a far reach to think that you could have access to your stand-by generator readily at your fingertips. Triton Power is a proud distributor of Deep Sea Electronics PLC & Generator Control Panels for over a decade. Deep Sea products are state of the art electronics built to work in the rugged world of Emergency power. While the generator controller's primary function is monitoring and safety it is also a concern of many clients to have real time data available. With this in mind Deep Sea offers various controller options with a wide range of monitoring capabilities to help our customers collect real time data on their equipment.
Triton Power is proud to announce a new addition to our already vast array of remote monitoring options. Deep Sea Webnet control monitoring puts the power of your generator at your fingertips. Using smart phone, PC, or tablet based technologies to allow you access to your product 24/7/365. DSE Webnet AP is easily downloaded into your smart phone or tablet. Once the user is logged in they will have access to ALL their generator data and features. This ground breaking technology allows our customers to stay connected to their generator anywhere internet or cellular signal is available. Which is literally everywhere now a day's given satellite communication allows even the most remote locations to transmit and receive data.
Cellular/Web Based Monitoring
DSEWebNet® provides a web-based control and monitoring solution for DSE control modules all over the globe. DSEWebNet® supports single or multi-set systems via a range of devices, which support a suitable internet browser. This includes Laptop / PC, Smart Phone or Tablet devices. On-screen information presents real-time generator and system information in an easy to use format with a flexible means of data transmission through Ethernet or GSM 3G via the DSE890 Gateway device. Location information can be provided by an external
GPS antenna connected to the DSE 890 Gateway devices. Some of the benefits of this include reduced site visits and maintenance costs, fuel management, fault analysis, asset tracking, automatic system alerts. This system will help to maximize your up-time on your equipment.
Monitoring using PC Software
DSE works hard to hide the complexities of their software platforms from the user, while at the same time giving them an industry-leading tool. Commonality is a key to maintaining quality. DSE products all use the same software platforms ensuring that once you have used a DSE product, selecting another from the range will be a straight forward process as programming will be carried out in the same way. By keeping to one software platform we give ourselves tighter control when enhancing and updating functionality within it. We only need to update one central software file ensuring all our customers have instant access to the latest version for their products.
Deep Sea software is a windows based program that can be downloaded directly from their website free of cost. Once the end user has loaded the software they may integrate directly into any of our Deep Sea products.
Remote monitoring via Ethernet
Deep Sea offers DSE860 and DSE865 communications devices, these allow you to monitor single or multiple generating sets over a LAN (network) or WAN (internet) connection. The devices include Software that is used to assign a TCP/IP address to a COMPort on a PC. Once a COM port has been selected then the user can communicate directly with the control module from their PC. If the device needs to be seen over the internet the assigned IP address has to be configured to be visible to the outside world. Once this has been done the module can be communicated with from any remote location that has internet anywhere globally.
These devices have been designed to work with the DSE55xx, DSE73xx, DSE75xx DSE86xx and DSE87xx control modules. The devices also include LED indicators that show the operation and connection status at all times. Different light patterns indicate a range of status conditions.
Remote monitoring via SCADA
Supervisory control and data acquisition or SCADA as it is commonly known is a method of sending coded signals over communication channels to provide remote control and monitoring of equipment. SCADA systems historically distinguish themselves as large scale processes that include multiple sites over large distances. These processes include industrial infrastructure, facility based municipal and federal government installations just to name a few.
Deep Sea 8005 SCADA Suite software for Windows enables remote control and monitoring of DSE load share systems. This is comprised of the DSE-8610, DSE-8660, DSE-8680 and DSE8700 Series modules. The DSE8005 SCADA will monitor up to a maximum of (40)- DSE controllers in any combination of up to 32 generators and 16 mains (utilities) e.g. 32 generators and 8 mains (utilities), 30 generators and 10mains (utilities) etc. Modules are linked via a high-speed connection in a 'daisy-chain' topology. Compatible with Windows TM 7, XPand Vista, the software can be easily installed into any laptop or PC, allowing full remote control and monitoring facilities. The Windows based software is user-friendly
Remote Monitoring via Annunciator
Deep Sea offers several different remote annunciation modules that can be hard wired locally on the generator to provide data and remote control from up to 1Km. away. DSE-2548 module is an LED expansion module that can be used with all DSENet® compatible control modules. The module has been designed to display a maximum of eight individual LED indications up to a maximum distance of 1 KM (0.6miles).The DSE2548 is presented in a vertical enclosure. It includes an alarm sounder that is triggered when the host controller detects an alarm condition. The alarm can be muted directly from the DSE2548 using the front push button. The DSE2548 includes individual LEDs for each channel and a 'Power On' LED that flashes when the link with the host controller is lost.
Mimic Control Panels
The DSE2510 and DSE2520 are display modules designed to work with the DSE7310 Auto Start and DSE7320 Auto Mains (utility) Failure control modules. Up to three display modules can be connected to one host control module, and can be positioned up to a maximum distance of 1km away. The remote displays offer exactly the same instrumentation, control and monitoring capabilities as the host control module, including starting and stopping of the engine. It virtually mimics all the data provided on the generator installed control panel.
All remote displays connected to the same system, will show the same information at any one time, while the host controller is able to display a variety of information. The modules are simple to operate and feature the same user-friendly menu layout as the host module. All communications and configuration are done via the host module only. The remote devices simply mirror the configuration of the host module, making the system quick and easy to install.
Triton Generator customers have dozens of options available to when it comes to remote monitoring their equipment. We offer a plethora of controllers with multiple methods of data retrieval. The sky is literally the limit with our cellular and web-based platforms designed to work with our new DSE Webnet technology. We also offer industry standard hardwired monitoring systems. Whether it is around the block or in the Soviet bloc we can get you connected with our Deep Sea Control and Monitoring Systems. Contact us today to get yourself connected. You can definitely hear us now… from anywhere at any time!