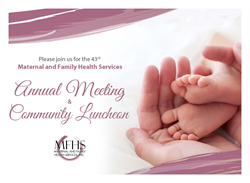 Wilkes-Barre, Pennsylvania (PRWEB) October 02, 2014
– Maternal & Family Health Services, Inc. (MFHS) announces that its 43rd Annual Meeting of the Board of Directors and Community Luncheon will take place on Wednesday, October 29th, 2014 at The Westmoreland Club, Wilkes-Barre. The Community Luncheon will celebrate the 40th anniversary of WIC, the Special Supplemental Nutrition Program for Women, Infants, and Children. The agency will be presenting several awards, including a special Lifetime Achievement Award for the Honorable Phyllis Mundy.
Maternal & Family Health Services began its journey of service in April 1971, with a vision to improve the quality of family life, promote responsible parenthood and coordinate effective service delivery in Northeastern Pennsylvania. Today, MFHS has grown to a regional organization serving over 115,000 individuals in 16 Pennsylvania counties.
The Honorable Phyllis Mundy will be receiving the MFHS Lifetime Achievement Award for her years of service and dedication to the people of Northeast Pennsylvania. Representative Mundy is a champion for MFHS programs that help women, children and families lead healthier lives. Representative Mundy has gone on home visits with nurses and met the women and children who benefit from our programs. She never stops fighting for programs that are proven to work and make a real difference by meeting critical needs and promoting a healthier future.
Arthur Piancone of the Pocono Alliance will be receiving the Rose Tucker Award for his dedication to serving the community and his work in building the Bridges Out of Poverty program in Monroe County. His focus on empowerment, employment and education has helped the program reach an 88% graduation rate, well above the 48% national average.
John W. Dawe will also be receiving the Youth Partner Outreach Award for his ongoing commitment to build safe and supportive environments for all Northeastern Pennsylvania young people regardless of sexual orientation and gender identity.
This year, the Victims' Intervention Program of Wayne County will be receiving the Outstanding Community Partner Award for their ongoing partnership with MFHS in preventing domestic violence through client education, participation in teen outreach and more.
The public can download the Annual Meeting invitation via the MFHS website. The luncheon reception is $25 and the RSVP deadline is October 21st. Program advertising opportunities are also available.
Maternal and Family Health Services is a non-profit health and human service organization working to improve the health of Pennsylvania women and children by offering programs the prevent disease, promote wellness, and empower individuals to make healthy lifestyle choices. The agency oversees a network of health and nutrition centers in 16 Pennsylvania counties serving over 115,000 individuals each year through the following core programs: WIC Nutrition Program, Family Planning Program, Healthy Woman Cancer Screening Program, Nurse-Family Partnership, and the Healthy Beginnings Plus Prenatal Program. For more information call 1-800-367-6347, or visit http://www.mfhs.org or http://www.safeteens.org.