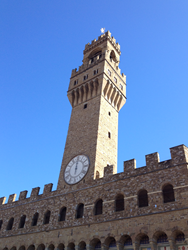 Potomac, MD (PRWEB) September 10, 2014
Following in the footsteps of the famous "Monuments Men", and inspired by Robert M. Edsel's book, Saving Italy, Monument Travel is offering a small boutique art tour to Paris, Pisa, Florence, Siena and Rome. Limited to a maximum of 40 guests, the 10 day deluxe trip will answer the question "What happened to the art during WWII?" Starting in Paris, participants will tour the Louvre, Musée Jeu du Paume and the Musée d'Orsay with a local art expert guide. Traveling on to Italy, the tour includes Pisa, Florence, Siena, Rome and the often missed Abbey at Monte Cassino.
"So inspired by Robert M. Edsel's books, "Monuments Men" and "Saving Italy", we developed a tour specially to learn more about the now famous group of Allied Forces and their mission" explains Ms. Lane, owner and founder of Monument Travel.
In order to provide the finest tour essentials, Monument Travel is partnering with AlliedPRA of France and Italy, a top-notch destination management company, well known for providing excellent travel experiences. Accommodations include InterContinental Paris l'Opera, St. Regis Florence and the St. Regis Rome.
Founded by former International Tour Director and Hospitality Marketing Executive, Marjorie Lane, Monument Travel creates small, luxury tours to the art capitals of the world. A graduate of Tufts University, with a degree in Art History, as well as having studied at the Tyler School of Art in Rome, Italy and l'Universite de Paris, Paris, France, Ms. Lane is passionate about traveling the world, experiencing other cultures and learning more about the influence of art in our lives. Newly created, but steeped in years of experience, this boutique travel company works with only the finest partners in Europe. Tours are focused on exploring the art, culture and history of great cities, while offering luxurious hotel accommodations, unique dining experiences, highly qualified local guides and free time for individual adventures and explorations.
# # #
For more information about this topic, please contact Marjorie Lane at 301-340-1700 or email at mlane(at)monumenttravel(dot)net.