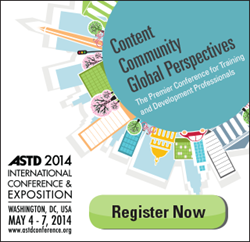 T&D professionals help companies address skill shortages and develop today's workforce, and ASTD 2014 is the largest conference in the world dedicated to this crucial profession.
Alexandria, VA (PRWEB) April 03, 2014
The American Society for Training & Development announces its International Conference & Exposition will be held May 4-7 at the Walter E. Washington Convention Center in Washington, D.C. This is the premier gathering of training and development professionals and regularly attracts more than 9,000 attendees from more than 70 countries.
T&D professionals help companies address skill shortages and develop today's workforce, and ASTD 2014 is the largest conference in the world dedicated to this crucial profession. Attendees will hear from thought leaders and experts who will deliver insights that will help them create cultures that develop talent, spark innovation, and contribute to growth in their own organizations.
Keynote speakers for the conference include:
Arianna Huffington is the opening keynote speaker on Monday, May 5, and will speak about redefining success. She is the chair, president, and editor-in-chief of the Huffington Post Media Group, a nationally syndicated columnist and author of 14 books. In May 2005, she launched "The Huffington Post," a news and blog site that quickly became one of the most widely-read, linked to, and frequently-cited media brands on the Internet; it won a Pulitzer Prize for national reporting in 2012. In 2013, Ms. Huffington was named to the Forbes Most Powerful Women list. In 2006, and again in 2011, she was named to the TIME 100, Time magazine's list of the world's 100 most influential people.
General Stan McChrystal is the keynote speaker on Tuesday, May 6. A four-star general widely praised for fusing intelligence and operations in warfighting, McChrystal will speak about leadership and change. He is the former commander of U.S. and international forces in Afghanistan and the former leader of Joint Special Operations Command, which oversees the military's most sensitive forces. He is also the author of the bestselling leadership book, "My Share of the Task: A Memoir," and co-founder of the McChrystal Group. A former Army Ranger, McChrystal is known for his candor, innovative leadership, and going the distance. Few can speak about leadership, teamwork, and international affairs with as much insight as he can.
Kevin Carroll will close ASTD 2014 with his keynote address on Wednesday, May 7. He is the founder of Kevin Carroll Katalyst/LLC and the author of three highly successful books, "Rules of the Red Rubber Ball," "What's Your Red Rubber Ball?!," and "The Red Rubber Ball at Work." Carroll has dedicated his life to advancing sports and play as a vehicle for social change and success. He partners with non-governmental organizations and businesses around the world and encourages them to embrace their spirit of play and creativity to maximize human potential and sustain more meaningful business and personal growth.
ASTD 2014 will also feature more than 250 educational and networking sessions and a world-class EXPO with the latest products and services from more than 350 top suppliers.
For more information visit the conference site at http://www.astdconference.org. Journalists interested in covering the conference can request a press pass at http://www.astd.org.
The conference hashtag is #astd2014.
About ASTD
ASTD (American Society for Training & Development) is the world's largest professional association dedicated to the training and development field. In more than 100 countries, ASTD's members work in organizations of all sizes, in the private and public sectors, as independent consultants, and as suppliers. Members connect locally in 120 U.S. chapters and with 10 international strategic partners. ASTD started in 1943 and in recent years has widened the profession's focus to align learning and performance to organizational results, and is a sought-after voice on critical public policy issues. For more information, visit http://www.astd.org.
###