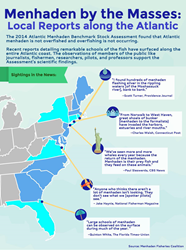 The report details numerous, geographically extensive accounts identifying large schools of the species, "coast-wide, in numbers and in places that are far beyond the Mid-Atlantic-based menhaden fishery."
Washington, DC (PRWEB) April 01, 2015
The Menhaden Fisheries Coalition has released a report compiling coast-wide observations of large schools of Atlantic menhaden by the media, fishermen, environmental groups, and members of the public outside the fisheries management community. The report details numerous, geographically extensive accounts identifying large schools of the species, "coast-wide, in numbers and in places that are far beyond the Mid-Atlantic-based menhaden fishery." It also notes that significant numbers of the fish located in the species' northern range – particularly in the waters around New York and New England – have not been counted in stock assessments until now. Taken together, the newest stock assessment and this report from the Menhaden Fisheries Coalition indicate that what the best available science has found in the assessment, and what commercial and recreational fishermen are seeing on the water, are in agreement, and point to a healthy and plentiful stock.
Menhaden made headlines across the Atlantic Coast in 2014 for a range of reasons. Large schools of the silver fish amazed onlookers from as far south as Florida to New England, at times bringing with them a spike in humpback whale sightings. Despite past skepticism and suggestions by some environmental special interest groups that the species is being harvested at unsustainable levels, the Coalition's new report backs the latest assessment's findings that Atlantic menhaden are neither overfished nor subject to overfishing. The Atlantic States Marine Fisheries Commission (ASMFC) analyzed the population with the best available science after a total reevaluation of assessment methods and models. As evidenced by both the scientific research and local sightings from Florida to New England, Atlantic menhaden are a successful species throughout their extensive geographic range.
The Coalition's findings clearly indicate a demonstrated correlation and corroboration of observed sightings of the species to the 2014 Atlantic menhaden stock assessment, which found that the species is healthy, wide-ranging, and sustainably managed.
About the Menhaden Fisheries Coalition
The Menhaden Fisheries Coalition is a collective of menhaden fishermen, related businesses, and supporting industries. Comprised of over 30 businesses along the Atlantic and Gulf Coasts, the Menhaden Fisheries Coalition conducts media and public outreach on behalf of the menhaden industry to ensure that members of the public, media, and government are informed of important issues, events, and facts about the fishery.