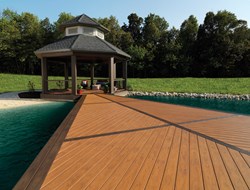 Scranton, PA (PRWEB) February 13, 2014
Since AZEK and TimberTech joined forces under CPG Building Products in 2013, both brands have focused their combined efforts on continuing the tradition of product innovation. To debut these exciting results to the industry, AZEK and TimberTech shared a 50X50 booth at last week's International Builders Show in Las Vegas, with an estimated attendance of 75,000 building professionals.
TimberTech introduces dramatic new deck colors and styles in the Earthwood Evolutions "capped" composite line (the only fully encapsulated deck board), with the Legacy Collection. Legacy has a look that is amazingly similar to the hand-scraped, artisan looks found in indoor flooring. New technology actually creates shade variations within the boards and from board to board, taking the look of indoor flooring to the outdoor deck.
AZEK Deck adds the AZEK XLM® Tropical and Natural Collections, each in three popular colors. As a pioneer of PVC decking, AZEK Deck also stands out as a market leader with the addition of a grooved deck board option to its product line-up.
AZEK Pavers (made from recycled tires and plastics) adds several new products to create design interest for patios, driveways, decks and balconies – from accessory items to an 8" x 8" paver. All AZEK Pavers fit into a grid like a giant puzzle with no need for wet saw or heavy duty tools—great for contractors and DIYers!
Both AZEK and TimberTech showed off new railing components and accessories. Each brand will keep its own railing style profiles, but the hardware and installation are co-branded and super easy. Both railing systems will coordinate with four great in-fill options: composite, metal (round and square), CableRail and a glass panel hardware kit. New lighting, post caps and other finishing touches are available for both in 2014 as well.
The downloadable AZEK and TimberTech news releases and photos are easily accessed from the 2014 IBS Show Online Press Kit page at http://www.timbertech.com/ibs2014.
The united brands provide a one stop resource and wider selection for contractors and homeowners. Visit http://www.azek.com and http://www.timbertech.com.