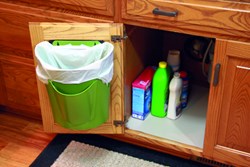 There is no such thing as a 'single-use' plastic bag with BagSavr+. Our goal is for everyone to save and reuse them all.
Grand Rapids, MI (PRWEB) January 17, 2014
Have you ever asked, "What can I do with all those plastic grocery bags?" If so, you are not alone because most people do. In fact, if you are like most of people, you already have a collection of plastic grocery bags stuffed in a kitchen drawer or closet that you use for packing lunches, carrying laundry, bathroom trash cans and cleaning out the litter box. BagSavr+ was invented because 90% of people who bring home plastic shopping bags are already reusing them on a regular basis and the need for an easy and versatile bag re-use trash can seems clear.
BagSavr+ designer Gabriel Beversluis has teamed up with Products That Work, LLC, of Muskegon, Michigan, to help solve these challenges with a new 'Go-Anywhere' trash can with several patent-pending features making it user-friendly and versatile. Their goal was to make a product for everyone to save and reuse all bags that are not recycled. BagSavr+ also works to reuse biodegradable and recycled plastic grocery bags.
Products That Work also hopes to drastically reduce plastic bag littering: "Not only is reusing and repurposing ideal, but If everyone had BagSavr+ at home, littering of plastic bags would be reduced, helping to keep those bags out of waterways. It provides a great incentive for everyone to reduce waste and littering with easy bag reuse" Says Beversluis, "we've even had customers using BagSavr+ for storing extra plastic bags to recycle."
Perfectly sized to fit the plastic grocery bags and the inside of a kitchen cabinet door, BagSavr+ also works as a freestanding garbage can in any room and includes several features that set it apart from all competitors. View photo gallery.
The front pocket stores 10 extra bags right where they are needed, in every room of the house. The screw hole attachment system, and optional Hanger Bracket+ Kit make it easy for users to mount and remove it on any surface. The handle makes it easy to carry anywhere when needed and easy to clean. Tuck Grooves and Handle Locks hold the bag in place preventing bag slipping and gapping, even when it is mounted. Watch the video.
With 8 designer color options and an eco-modern style, Products That Work has customers using BagSavr+ in locations such as apartments, campers and RVs, retirement homes and college dorm rooms. The simple to use, attachable design along with the convenient size have made it a perfect fit for people looking for a smaller garbage can.
Retailers interested in wholesale information about the BagSavr+ product family may contact PTW here.
Products That Work LLC, of 1732 Glade St, Muskegon, MI 49441, is a Michigan based product development company focused on innovative, USA made products that really work. PTW launched BagSavr+ in 2013 and is currently taking retail orders with plans to hit shelves nationwide later in 2014. BagSavr+ is also for sale on it's website and at Amazon.com.