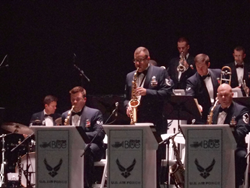 "We get on Blackhawk helicopters and go to forward operating bases to give the troops an hour of entertainment, which hopefully gives them the resiliency to continue doing their important jobs.
Hopewell, Virginia (PRWEB) November 11, 2014
Starting out the Veterans Day weekend with a patriotic flair, the Rhythm in Blue Jazz Ensemble from the U.S. Air Force Heritage of America Band performed Friday evening, November 7, at The Beacon Theatre in Hopewell. The 16-member band played a program of big band sound and rhythm and blues with jazz fusion, a lot of brass and electric piano and bass.
The 16 pieces the ensemble chose for this performance included unique arrangements of music by some of the jazz era greats such as Buddy Greco, Donald Byrd and Charlie Parker, adaptation of popular songs and even a folk song from just after the Civil War. As Emcee Senior Airman Steve Rozek explained, "Besides our job as musical ambassadors for the Air Force, we preserve the jazz tradition and push it forward," he said. "It is our job to respect the musical heritage of those that came before us, while at the same time exposing a new generation of listeners to this music."
With military precision, band members walked on stage at 7 p.m. sharp and played their first lively selection: "Ev'ry Little Beat Helps" by Sammy Nestico. Then bandleader, Technical Sergeant Christopher Stelling greeted the audience. "Good evening, everybody! Greetings, Hopewell!" The audience responded.
After their initial greeting, the band played the Star Spangled Banner with a swing beat and a Hollywood flourish. Then emcee Rozek stepped forward, introducing the songs and the soloists. The next song was "The Rotten Kid" by Buddy Greco, arranged by Dick Grove. This was the only song that included vocals – a shout-out of "Rotten Kid." The rendition also included dueling trombone solos by Staff Sergeant Dandrick Glenn and Senior Airman James Hubbard, follwed by a saxophone solo 'battle' between Stelling and Staff Sergeant David Fatek.
The next two selections were "Autumn Leaves," played with a swing beat and featuring Rozek on tenor saxophone, and "It's a Heavy Town," a soft, sleepy ballad composed by Donald Byrd, once an Air Force Band member. Senior Airman Mark Oates, nephew of Hopwell's own Johhny Oates, soloed on trumpet.
At this point, emcee Rozek invited members of the audience to get out their smart phones and share and tweet information about the performance. "Go to our Facebook page and like us, all right?" he said. "That is your homework for tonight."
While most of the selections played on Friday were dominated by brass, for "Tall & Lanky," composed by Jeff Coffin and arranged by Bret Zvacek, the brass section pulled back, giving keyboards man Staff Sergeant Brandon May, bass player Senior Master Sergeant J.R. Erb and drummer Technical Sergeant Reid Stockdill a chance to show off. Rozek and Master Sergeant Jeffrey Saunders also soloed on saxophone
"Black Hole Sun," which followed, featured a popular song from the 1990s by Chris Cornell, turned into a jazz number by arranger James Miley.
A quintet of bass, piano, sax, trombone and drums played Charlie Parker's "Moose the Mooche." "Knarf" – Frank spelled backwards as a tribute to a friend of the composer, was reminiscent of the Pink Panther theme, building in intensity with a sax solo by Fatek and a blast from trumpet soloist Oates and ending with a softer back-to-Pink-Panther sound.
The only easily recognized songs in the evening's performance were "I Remember You" and "In the Wee Small Hours of the Morning." These two songs were dedicated to the 1.3 million men and women who serve in the military and their families.
"Machine" by Bill Reddie featured a bass solo by Erb and "Koko" from an unfinished opera by Duke Ellington featured trombone solos by Glenn and Senior Airman Trent Lockhart.
"Jeep Jocky Jump" was originally written for the jeep drivers in World War II and "Little Brown Jug," a folk song dating back to 1869, became a big-band number when it was released in 1939 by Glenn Miller. These were dedicated to veterans of that war, and all members of the "Greatest Generation."
Friday evening's concert ended with an Armed Service medley, recognizing members in the audience who had served in the Army, Navy, Coast Guard, Marines and Air Force. Because of Hopewell's proximity to Ft. Lee, Army vets represented the largest group in the audience.
About the Rhythm in Blue Ensemble:
The 16-member Rhythm in Blue Ensemble, stationed at Langley Air Force Base in Hampton, regularly performs for audiences across the eastern seaboard from Maine to South Carolina. In fact, another section of the band was scheduled to play in New Hampshire, the same evening as The Beacon performance, but the concert was snowed out. The ensemble that played in Hopewell on Friday was going on to Franklin on Saturday and the Locust Hill Middle School on Veterans Day.
All band members are enlisted professional musicians who audition for the spots in the Heritage of America Band. If they qualify, then they enlist. Band tour manager David Fatek joined Air Force Bands in 2003, but has been with this ensemble since 2013. Band leader and Non-Commisioned Officer in Charge, Technical Sergeant Christopher Stelling joined in 1999 and has been with this group since 2009. The Heritage of America Band plays about 300 performances a year; the Rhythm in Blue ensemble -which is a portion of that band - plays about 75 shows annually.
Tour manager Fatek said, "It's our job to communicate through music the excellence throughout the Air Force. Pilots, engineers… they all do their job spectacularly, and hopefully we bring that message to our audiences every night." Also, Fatek pointed out that he and Stelling, as well as many band members, have deployed to the Middle East - they contribute to the fight through their musical performances. Air Force Bandsmen play for troop morale, and at embassies throughout the world in support of partnership-building initiatives. "We get on Blackhawk helicopters and go to forward operating bases to give the troops an hour of entertainment, which hopefully gives them the resiliency to continue doing their important jobs."