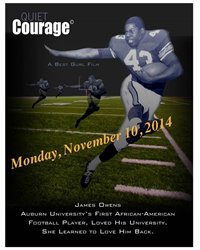 "I always say James Owens was Bo Jackson before there was a Bo Jackson."
Los Angeles, CA (PRWEB) October 21, 2014
Sometimes, people aren't born heroes; rather, those qualities emerge through circumstance. Such is the story of James Owens whose life is chronicled in a new documentary entitled, Quiet Courage: The James Curtis Owens Story. Quiet Courage is the untold story of history maker James Owens, the first African American to break through the college football racial barriers in the Deep South. Owens and his teammates tell his inspiring story while doctors and loved ones seek a Hail Mary for his failing heart. Auburn University will host a premiere screening of the film on Monday, November 10, 2014 from 4:30pm – 7:30pm at the Auburn University and Dixon Conference Center, 241 S. College St., Auburn, AL 36830.
In the midst of desegregation efforts at universities across the South, and after having been recruited by more than sixty other universities, Owens became "the first" at a Southeast Conference School in Alabama, Mississippi and Georgia when he enrolled at Auburn University in 1969. The film chronicles Owens' time at Auburn, beginning with his recruitment and initial reluctance to attend Auburn, his success on the field, his challenges in the classroom, and finally his acceptance as a beloved member of the storied football program.
The film is the brainchild of actor, producer, director and author, Thom Gossom, Jr., the second black football scholarship athlete at Auburn who "walked on" the field and became the first black athlete to graduate. Gossom also happened to be Owens' roommate. Gossom's company, Best Gurl, inc. produced the film in conjunction with Auburn University.
"When you think about the historical significance of James desegregating the SEC, you begin to understand why I called the film Quiet Courage", says Gossom. "Here is a gentle teenager from the 'other side of the tracks,' who enters a largely all-white Southern university, and must succeed on and off the playing field in an environment that was foreign to him with no real support infrastructure. Would he change a way of life? Could a black person play at this level? Those were the questions that pervaded the SEC sports community during that period of time. I felt compelled to tell this story 40 years later, as both a friend and as a participant, because James was both lauded and yet challenged to prove himself time and again. The isolation of cultural change and never having more than one other black teammate is a great cross to bear, yet he persevered. I always say that James Owens was Bo Jackson before there was a Bo Jackson. Quietly and single-handedly, James broke down the racial divide in the SEC and paved the way for future generations to play ball in an integrated landscape."
Quiet Courage has been selected to be televised over the Thanksgiving holiday weekend by Alabama Public Television as part of their annual membership drive. For airtimes, visit http://www.aptv.org/episodes/29587/Quiet-Courage--Pledge-Special//.
To view the Quiet Courage trailer, and to learn more about the documentary screening, please visit http://www.auburn.edu/quietcourage. Tickets for the screening are $25 and may be purchased on the website or by calling 334.844.5100.
For information on how to screen Quiet Courage at your institution or for distribution inquiries, please contact Best Gurl, inc. at bestgurlmedia(at)cox(dot)net or call 323.933.4155. For more information on Best Gurl, inc., please visit http://www.bestgurl.com .
About Best Gurl, Inc.
Best Gurl inc. is a unique, multi-platform communication company committed to contributing and enhancing written, performance and corporate communications. We produce quality films and documentaries, television scripts and theatre productions. Included in our portfolio are published books that uplift the human spirit and dynamic corporate speakers specializing in leadership, motivation and academia.
About Thom Gossom Jr.
Thom Gossom Jr. was the first black athlete to graduate from Auburn University in 1975. A walk on, Gossom defied the odds, earned a scholarship and became a three-year starter. He is featured in the HBO special, Breaking the Huddle, about the integration of Southern college football. His film and television credits include Reckless, The Fight Club, Jeepers Creepers 2, Miss Evers Boys, Boston Legal, NYPD Blue and In the Heat of the Night. His published memoir, Walk On: My Reluctant Journey to Integration at Auburn University is in its second printing and has an upcoming short story collection, Slice of Life, which will be published later this year.
Quiet Courage Screening at Auburn
The Quiet Courage screening is sponsored by the 50thh Anniversary of Integration Commemorations Committee, Access & Community Initiatives a unit of the Office of Diversity and Multicultural Affairs, University Outreach, the Office of Professional and Continuing Education and Auburn University Alumni Affairs.
# # #
Editor's note: For interview requests or high resolution jpegs, please contact Ginger Campbell, ginger(at)snap-productions(dot)com or call 323.933.4155.