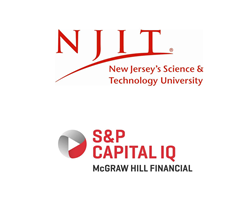 It's vitally important for the private sector to support the important work that public and non-profit institutions like NJIT are doing.
Newark, NJ (PRWEB) April 09, 2014
S&P Capital IQ, a business unit of McGraw Hill Financial, Inc., and New Jersey Institute of Technology (NJIT) are co-sponsoring the first annual Big Data Visualization Contest -- a competition that immerses undergraduates in the high-stakes world of mergers and acquisitions (M&A) by challenging them to pitch hypothetical acquisition targets using cutting-edge research, analytics, and data visualization tools available on S&P Capital IQ's desktop platform. The winning team will be selected on April 11 at an event at NJIT where judges will evaluate all presentations. All participating students will be evaluated for the opportunity to become an S&P Capital IQ intern.
Lou Eccleston, the president of S&P Capital IQ, will be the keynote speaker at the event. His remarks will focus on changing talent requirements for the global work force and the need for future leaders to have both business and technology skills in order to maintain competitive advantage.
"It's vitally important for the private sector to support the important work that public and non-profit institutions like NJIT are doing," says Robert Coppola, CTO, S&P Capital IQ and vice chair of the advisory board for NJIT's College of Computing Sciences. "We see it as an investment in the future - one that benefits us all in so many significant ways."
This is the first time that S&P Capital IQ has incorporated the use of a platform into a joint business and technology challenge for college students. Plans are in the works to expand the competition to include multiple schools and eventually promote collaboration across universities via company collaboration tools. For further information about the Big Data Visualization Contest, please see the contest website at http://www.spcapitaliq-njit.com/.
"Corporate/campus partnerships with companies like S&P Capital IQ are a win-win. The students put their classroom learning to work as they gain access to real world corporate challenges and exposure to cutting-edge business intelligence tools. Corporate partners gain access to some of our best and most motivated students who can help them evaluate new tools, adopt new technologies, and even become future employees," says Michael Ehrlich, associate professor of finance at NJIT's School of Management.
Marek Rusinkiewicz, dean of the College of Computing Sciences, called the contest an example of "mutually beneficial interactions between NJIT College of Computing Sciences and our corporate affiliates."
"The relationship with S&P Capital IQ is a great opportunity for CCS students to learn about financial applications of computing, such as quantitative investing and algorithmic trading," he noted.
The April 11 competition will take place on NJIT's second annual Innovation Day, a daylong showcase of innovative ideas and inventions presented by NJIT students across several research, technology and business programs.
ABOUT S&P CAPITAL IQ
S&P Capital IQ, a part of McGraw Hill Financial, is a leading provider of multi-asset class and real time data, research and analytics to institutional investors, investment and commercial banks, investment advisors and wealth managers, corporations and universities around the world. S&P Capital IQ provides a broad suite of capabilities designed to help track performance, generate alpha, and identify new trading and investment ideas, and perform risk analysis and mitigation strategies. Through leading desktop solutions such as the S&P Capital IQ, Global Credit Portal and MarketScope Advisor desktops; enterprise solutions such as S&P Capital IQ Valuations; and research offerings, including Leveraged Commentary & Data, Global Markets Intelligence, and company and funds research, S&P Capital IQ sharpens financial intelligence into the wisdom today's investors need. For more information, visit http://www.spcapitaliq.com.
ABOUT NJIT
NJIT, New Jersey's science and technology university, enrolls 10,000 students pursuing bachelor's, master's and doctoral degrees in 120 programs. The university consists of six colleges: Newark College of Engineering, College of Architecture and Design, College of Science and Liberal Arts, School of Management, College of Computing Sciences and Albert Dorman Honors College. U.S. News & World Report's 2011 Annual Guide to America's Best Colleges ranked NJIT in the top tier of national research universities. NJIT is internationally recognized for being at the edge in knowledge in architecture, applied mathematics, wireless communications and networking, solar physics, advanced engineered particulate materials, nanotechnology, neural engineering and e-learning. Many courses and certificate programs, as well as graduate degrees, are available online through the Division of Continuing Professional Education.