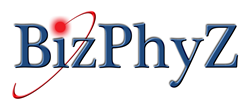 The moment we stop improving at our businesses, entropy begins to eat away at our success.
San Francisco, CA (PRWEB) May 10, 2014
Recognizing a need to stimulate morale and business thinking, Chris Reich of BizPhyZ is pleased to announce a summer workshop series using physics as a vehicle. "When people hear 'physics' they panic," writes Reich, "but I give them the fun stuff without the math. Once we get started they always want more. Look at the popularity of shows like COSMOS. People want to learn these things and if they can actually use what they learn; that's even better!"
When asked if physics might just be a bit too complicated, Reich gave this example:
"Okay, think about time. What the heck is time? Why does time only happen in one direction? Why can't we remember tomorrow? These are interesting questions but did you know that physics has answers? Entropy, or disorder, always increases according to the laws of physics. That's a pretty fair explanation of time. Disorder. No matter how perfect we make something, in time, it will break down. Nothing ever unbreaks. And since this is always true, it means that the moment we stop improving at our businesses, entropy begins to eat away at our success. That's exactly why there is no 'too big to fail'. All businesses are subject to entropy," says Reich.
An hour with this guy is absolutely fascinating. After speaking at his last engagement for 2 hours, the event hosts asked him to speak an additional 2 hours by demand of the audience. "That happens all the time," says Reich, "people are hungry to learn these things and they love the very strangeness of our universe—especially since they can apply it at work. We don't just talk about physics and business problems, we offer solutions. That makes our presentations very different."
BizPhyZ is also offering Creative Thinking Workshops to bring new, fresh ideas into businesses.
To arrange for Christoper Reich to speak at your company meeting or event, contact him through the BizPhyZ website or by email: Chris(at)BizPhyZ(dot)com or by phone (530) 467-5690. Chris Reich is available for press interviews by phone or SKYPE as well.