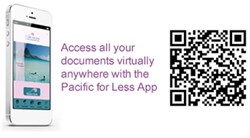 Think of the Pacific for Less App as your 24/7 travel support service that's available before and during your trip. - Claudia Schnetz
Wailea, Hawaii (PRWEB) January 08, 2014
Just in time for the 2014 travel season, Pacific for Less announces its new Pacific for Less app. While other apps may provide overviews of travel options, the Pacific for Less app is designed to provide a complete, personalized travel experience. The free app can be downloaded for iOS or Android so it is available for dozens of the most popular mobile devices. An easy way to download it is to do so via the QR code on the Pacific for Less home page. With this app, travelers can carry the keys to a dream Pacific vacation in the palm of their hands. The days of sorting through emails to find quotes, invoices and travel documents are a thing of the past when travelers use this revolutionary travel app that organizes everything for you.
Travelers can search the app in a variety of ways. One easy way to find great deals is to search by packages. One of the most popular packages is the St. Regis Exclusive Couples Retreat. All the details for this romantic couples getaway can be accessed via the app. One click allows a person to request a quote for this package or 5 other exciting packages that are described in the app. Travelers also have the option to create their own personalized packages through the app.
Bora Bora is one of the top vacation destinations that people book via Pacific for Less, and the St. Regis Hotel & Spa offers its famous butler service, the most luxurious bungalows and world class dining. It takes only a few minutes to get a quote for a romantic Bora Bora trip right from the app. Whether it's a honeymoon, anniversary celebration, Valentine's Day getaway or just a fun vacation for two, Pacific for Less is ready to handle all of the travel details.
Travelers who use the app can request to chat with Claudia Schnetz, General Manager of Pacific for Less, or Jennifer Dillon, Senior Travel Planner, at their convenience when they make their quote request. Mrs. Schnetz or Miss Dillon will discuss all of the travelers' needs with them and assist them with creating the most appropriate vacation travel package to match the occasion. "We're so excited to offer this new app. In the grocery store checkout line, waiting at the doctor's office, on your lunch break -- anytime is the perfect time to explore the latest Pacific for Less Tahiti vacation packages," Mrs. Schnetz said.
There are so many ways travelers can plan their Tahiti vacations with this app, not the least of which is the clients section. Once travelers book with Pacific for Less, they can use the app to keep track of their personalized quotes, invoices, flight itinerary, vouchers and important travel information, as well as all of the Pacific for Less contact phone numbers. "Think of the Pacific for Less App as your 24/7 travel support service that's available before and during your trip," Mrs. Schnetz stated.
The Pacific for Less app is also a traveler's gateway to many extras that deliver a variety of benefits. There's Refer a Friend which can earn people $100 when they refer their friends, and Snap to Send that enters travelers' Bora Bora photos into Pacific for Less's annual $500 drawing. Testimonials are available too from people who have traveled with Pacific for Less, and they relate their extraordinary vacation memories.
One of the most convenient and fun features of the app is its connection to all of Pacific for Less's social media accounts including links to their lively Facebook community, their imaginative Pinterest (pinterest.com/pacificforless/boards/) boards that offer dream-like Tahiti vacation ideas, their engaging YouTube (youtube.com/pacificforless) channel, and their easy to use LinkedIn (linkedin.com/company/pacific-for-less-inc) and Twitter (@Pacforless) accounts where responsive specialists await travelers' questions and comments. While travel can sometimes be unpredictable, it's a sure thing that wherever travelers are they can depend on Pacific for Less and their new app to personalize their vacation experience.
About Pacific for Less
Pacific for Less offers the most attractive rates and highest quality service because of its long-term relationships with its partners in the South Pacific. For over 18 years, Pacific For Less has specialized in the islands of French Polynesia, and our travel planners Claudia and Jennifer have extensive personal experience and detailed knowledge of the islands and resorts. "We will work closely with you to design your perfect itinerary, and will meticulously handle all the details and logistics for you, supporting you completely before and during your trip, until your return," Mrs. Schnetz stated. And of course our clients LOVE our excellent rates!
For more information on the Pacific for Less app and how to book a romantic vacation, please contact:
Claudia Schnetz
Pacific for Less Inc.
10 Wailea Gateway Place #B101-130
Wailea, HI 96753
Phone/Fax 800-915-2776
e-mail: Claudia(at)pacific-for-less(dot)com
Facebook: https://www.facebook.com/pacificforless
direct skype phone: 415-992-8128