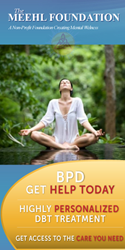 "I must be willing to give up what I am in order to become what I will be" ~Einstein
(PRWEB) November 20, 2014
The Meehl Foundation announces its new free eBook on BPD Treatment – a well written resource on helping people who think they may have Borderline Personality Disorder determine the next appropriate course of action in treatment. The eBook, entitled "Borderline Personality Disorder: Breaking the Cycle of Suffering," is available for download at http://www.meehlfoundation.org/eBook/. All those interested in the subject of Borderline Personality Disorder or family members of an affected patient are encouraged to download it and read, as well.
According to the Meehl Foundation's free eBook on Borderline Personality Disorder Treatment, it is a type of mental illness, in which a person exhibits unstable behavior,and moods.
"This mental illness is considered extremely serious, as most of the people who have been diagnosed with Borderline Personality Disorder experience brief psychotic episodes. Originally, experts took this as a symptom or borderline versions of other types of mental disorders. The name was originally devised from the fact that this illness was considered a border between neurosis and psychosis." According to the National Institute of Mental Health, BPD is a "serious mental illness marked by unstable moods, behavior, and relationships." Added to the Diagnostic and Statistical Manual for Mental Disorders, Third Edition (DSM-III) in 1980, the disease is marked by symptoms such as problems with regulating emotions and thoughts, impulsive and reckless behavior and unstable relationships with other people.
In their free BPD Treatment eBook, the Meehl Foundation writes:
"People who are suffering from borderline personality disorder have difficulty in handling and regulating their emotions and thoughts, have a tendency to behave impulsively and recklessly, and have a high tendency to have unstable relationships with others. However, these are not the only problems these people can face, they have high tendency to suffer from other types of disorders as well. The co-curing disorders, which these people might experience, include depression, eating disorders, anxiety disorders and substance abuse. People with Bipolar Disorder are 50% more likely to also have BPD or BPD features. They also exhibit characteristics of self-harm, suicidal tendencies, which may sometimes even leads to suicide."
The Meehl Foundation is a non-profit organization committed to helping those with mental health struggles. Founded by Mark & Debra Meehl, the couple works together writing, researching and actively assisting those with BPD in developing the best treatment options for each individual. "You will see a measurable increase in your distress tolerance level in less than 90 days and that your Self-Confidence will continue to soar until you are unstoppable," said Debra Meehl, President of the Meehl Foundation and co-author of "Borderline Personality Disorder: Breaking the Cycle of Suffering." Our book offers hope to anyone whose life has been defined by the debilitating emotional distress that is a constant companion to those who haven't yet triumphed over BPD. The Meehl Team has over 25 years of combined experience successfully treating clients and are Intensively Trained in DBT, REBT, Schema therapy and is a Amen Brain Healthy model. At their DBT residential facility, residents learn to effectively manage all areas of his or her life in order to return home with the ability to productively engage in career and financial decisions, cultivate and grow friendships and family relationships, and use new coping strategies for life.