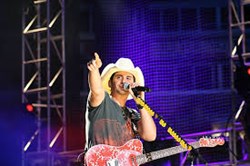 (PRWEB) December 28, 2013
Brad Paisley enjoys being out on tour so much that he extended his Beat This Summer tour into a Beat This Winter tour. The Beat This Winter tour begins in Greenville, South Carolina in early January and concludes in Charleston, West Virginia on the first day of March. This tour will only be on the east coast so if you live in California or west of the Mississippi you will have to travel to see Mr. Paisley perform live.
Chris Young and Danielle Bradberry will open up for Paisley during the Beat This Winter Tour. These are the same opening acts that traveled with Paisley during the Beat This Summer Tour. Paisley has been a mainstay on country music stations since 1999. His most popular hits include "Mud on the Tires", "Ticks", "Alcohol", "Celebrity", "I'm Gonna Miss Her" and "Online" just to name a few. In fact, when looking at his greatest hits two disc album it is obvious that Brad Paisley has been one of the most successful singers of the last decade.
The last four songs to be released by Brad Paisley are "Southern Comfort Zone", "Beat This Summer", "I Can't Change the World", and "The Mona Lisa". It will be interesting to see if he changes the words of "Beat This Summer" to "Beat This Winter" on the winter tour. This will be something diehard fans will look forward to. Below are the dates and locations of the Brad Paisley Beat This Winter 2014 Tour:
January 9th, 2014 – Greenville, South Carolina – Bon Secours Wellness Arena
January 10th, 2014 – Pikeville, Kentucky – Eastern Kentucky Exposition Center
January 11th, 2014 – Louisville, Kentucky – KFC Yum! Center
Janaury 23th, 2014 – Estero, Florida – Germain Arena
January 24th, 2014 – Tallahassee, Florida – Leon County Civic Center
January 25th, 2014 – Orlando, Florida – Amway Center
February 13th, 2014 – Long Island, New York – Nassau Veterans Memorial Coliseum
February 14th, 2014 – Uncasville, Connecticut – Mohegan Sun Arena
February 15th, 2014 – Manchester, Massachusetts – Verizon Wireless Arena
February 22nd, 2014 – Nashville, Tennessee – Bridgestone Arena
February 27th, 2014 – Ft. Wayne, Indiana – Allen County War Memorial Coliseum
February 28th, 2014 – Dayton, Ohio – Ervin J. Nutter Center
March 1st, 2014 – Charleston, West Virginia – Charleston Civic Center
Brad Paisley is from Glen Dale, West Virginia so the final show of the tour should be something special. Brad Paisley loves to have fun on stage and with his lyrics. By listening to songs like "I'm Gonna Miss Her", "Alcohol" and "Online" you know that Paisley loves doing what he does. For future tour dates for any country music act please return to Ticket Monster for the information. We provide daily music, sports and media information.