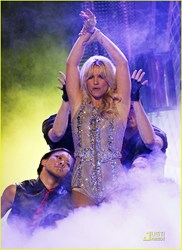 (PRWEB) January 01, 2014
Many diehard Britney Spears fans have wondered if she is going to hit the road in 2014 to accompany her Las Vegas "Piece of Me" shows that will take place early in the year. At this point fans are going to have to remain patient as Britney is devoted to this Las Vegas show that she has been working on for over two years. During the course of 2014 and 2015 there are going to be 50 show dates in Las Vegas.
There is little argument to be made that Britney has had quite the up and down career. She was a teenage pop star that went wrong in her early 20's. With everything falling apart Britney pulled it together and resurrected her career. Some would argue that former boyfriend Justin Timberlake ended up doing better overall they are both doing very well in terms of pleasing crowds.
Some of her most popular songs include "Hit Me Baby One More Time", "Always", "I'm a Slave", "Toxic", "You Drive Me Crazy" and "Oops I Did It Again". If Britney decides to hit the road there is a high likelihood fans will hear these and some of her newer songs as well. In the meantime, check out some of the dates that Britney will be performing "Peace of Me" at her Las Vegas show:
Friday, December 27
Saturday, December 28
Monday, December 30
Tuesday, December 31
Wednesday, January 29
Friday, January 31
Saturday, February 1
Tuesday, February 4
Friday, February 7
Saturday, February 8
Wednesday, February 12
Friday, February 14
Saturday, February 15
Tuesday, February 18
Wednesday, February 19
Saturday, February 22
Friday, April 25
Saturday, April 26
Wednesday, April 30
Friday, May 2
Saturday, May 3
Wednesday, May 7
Friday, May 9
Saturday, May 10
Wednesday, May 14
Friday, May 16
Saturday, May 17
Saturday, August 16
Tuesday, August 19
Saturday, August 23
Wednesday, August 27
Saturday, August 30
Sunday, August 31
Wednesday, September 3
Friday, September 5
Saturday, September 6
When looking to get tickets to this or any Las Vegas show remember to utilize the inventory provided by Ticket Monster. Also, we continue to publish unique content every day helping fans find out more breaking information related to sports, entertainment and the media. Let Ticket Monster be your hub for entertainment news.