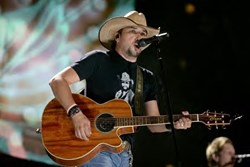 (PRWEB) January 15, 2014
Jason Aldean has been busy performing his 2014 "Night Train" tour, but will soon be moving on to his "Burn It Down" tour starting in May. His first show of the new tour will be performed on May 2nd at the Bryce Jordan Center in Pennsylvania. His upcoming concert schedule has recently been announced, and Ticket Monster has all the dates here! Aldean will be performing many of his concerts at Major League Baseball stadiums, to make his tour a little more interesting. He has partnered with the MLB to perform in stadiums, as the star has always had a fascination with baseball.
On top of his new tour and baseball stadium appearances, Aldean will have Florida Georgia Line and Tyler Farr performing with him. Some of the biggest venues the country star will be performing at include Nationals Park in Washington DC, Citizens Bank Park in Philadelphia, PNC Park in Pittsburgh, and the Great American Ball Park in Cincinnati. To find cheap Jason Aldean tickets and experience the best country music of the year, visit http://www.Ticketmonster.com today! Although specific tour dates have not yet been released, the following is a list of the Jason Aldean 2014 Tour stops for his Burn it Down tour:
Roanoke, Virginia
State College, Pennsylvania
Atlantic City, New Jersey
Birmingham, Alabama
Atlanta, Georgia
Baton Rouge, Louisiana
Jacksonville, Florida
Darien, New York
Cincinnati, Ohio
Washington, D.C.
Pittsburgh, Pennsylvania
Twin Lakes, Wisconsin
Philadelphia, Pennsylvania
Hartford, Connecticut
Detroit Lakes, Minnesota
Prairie du Chien, Wisconsin
Chicago, Illinois
St. Louis, Missouri
Toronto, Ontario
Saratoga Springs, New York
Bangor, Maine
Charlotte, North Carolina
Raleigh, North Carolina
Virginia Beach, Virginia
Knoxville, Tennessee
Lexington, Kentucky
Denver, Colorado
Albuquerque, New Mexico
Phoenix, Arizona
San Diego, California
Irvine, California
Mountain View, California
Sacramento, California
Winnipeg, Manitoba
Bismarck, North Dakota
Sioux Falls, South Dakota
Erie, Pennsylvania
Detroit, Michigan
Tampa, Florida
West Palm Beach, Florida
San Antonio, Texas
Houston, Texas
Dallas, Texas
For more information on the Jason Aldean Burn It Down tour and to purchase your Jason Aldean tickets, visit Ticket Monster. Ticket Monster is the best place to find the best deal in country music tickets, as well as deals on other concerts and sporting events. Ticket Monster never charges service fees, and has a world class customer service team, to make your experience that much more enjoyable. Visit http://www.Ticketmonster.com, or call 866-217-4777 today.