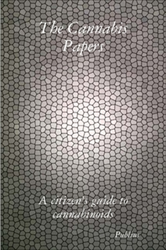 Subserve cognitive processes - that's how the research described the effects of (chronic) alcohol use on the CS.
Chicago, IL (PRWEB) August 31, 2014
"Prohibition is our history," opened Bryan W. Brickner, "and pro-science (empiricism) is our future: the present ~ that's political."
In Homeostasis: Publius' Alcohol Political Cannabinoid Science, new on the Bryan William Brickner Blog, four 2014 PubMed articles are highlighted on cannabinoid system (CS) modulation and homeostasis - including one on the de-homeostatic (harmful) effects of chronic alcohol use. The Publius CS update includes: heteromerization, chronic alcohol harms, sensory information salience and stress response attenuation.
Brickner, part of Publius and publisher of The Cannabis Papers: A citizen's guide to cannabinoids (2011), noted the science (and politics) of one piece of new research in particular. The PubMed article, Chronic ethanol alters network activity and endocannabinoid signaling in the prefrontal cortex, describes the harms of alcohol use to one's CS.
"Showing chronic alcohol use is harmful to the brain," Brickner explained, "is not the news here; the news is that alcohol harms the prefrontal cortex of the brain by causing a down-regulation in one's cannabinoid system - in one's cannabinoid signaling."
"The research notes the importance of the prefrontal cortex," continued Brickner, "it's the part of the brain involved in higher order thinking, decision making and our judgment."
"Subserve cognitive processes," closed Brickner, "that's how the research described the effects of (chronic) alcohol use on the CS."
Brickner has a 1997 political science doctorate from Purdue University and is the author of several political theory books, to include The Promise Keepers: Politics and Promises (1999), Article the first of the Bill of Rights (2006), and The Book of the Is: A book on bridges (2013). The Bryan William Brickner Blog is an ongoing resource for the political science of constitutions and the biological science of receptors.
The Cannabis Papers is available online and for free by download.
Next Homeostasis: Burning Man edition on Saturday, 6 September ~ Publius' (Ultralow) THC Political Cannabinoid Science on the Bryan William Brickner Blog.