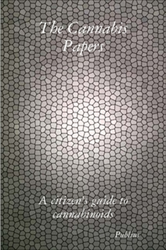 Know your CS ~ it's part of life … and part of preventing cancer.
Chicago, IL (PRWEB) March 30, 2014
"Preventing carcinogenesis, the process that turns healthy cells cancerous," opened Bryan W. Brickner, "is a national health issue: that means everyone's cannabinoid system (CS) is as well."
Brickner, part of Publius and The Cannabis Papers: A citizen's guide to cannabinoids (2011), noted: "Everyone supplements and modulates their CS through digestion and exercise: it's part of life … part of what we call disease and health."
In 2013, the American Cancer Society reported that more than 1.6 million Americans were diagnosed and nearly 600,000 died of cancer – the nation's second leading cause of death. To raise awareness, they focus attention on specific cancers and events throughout the year: March is Colorectal (Colon) Cancer Awareness month.
The update on the Bryan William Brickner Blog, Preventing Carcinogenesis Via One's Cannabinoid System ~ Publius' March 2014 Colorectal Cancer Awareness, looks at inducing apoptosis, attenuating cancer's damage, and an estrogen-responsive connection to controlling colon cancer proliferation. The post cites established and new research from the National Institutes of Health (PubMed) and finds, for example: a discrete role for CB2 receptors in the attenuation of detrimental inflammation, a significant prognostic role for the CB1 receptors following surgery in stage IV colorectal cancer, and the CB1 receptor considered an estrogen-responsive gene.
"Estrogen modulating cannabinoids and cancer," commented Brickner, "that's a big deal. It also goes a long way in explaining the divergent effects pot has on people."
"Know your CS," Brickner closed, "it's part of life … and part of preventing cancer."
Brickner has a 1997 political science doctorate from Purdue University and is the author of several political theory books, to include The Promise Keepers (1999) and The Book of the Is (2013). The Bryan William Brickner Blog is an ongoing resource for the political science of constitutions and the biological science of cannabinoids.
The Cannabis Papers is available at online retailers and for free by download.