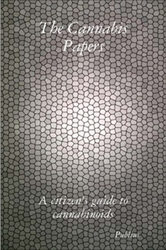 The new sanity of CS science, to include herbal, pharmaceutical and now nano-cannabinoids, is clearly part of a bigger (political) picture: Life.
Chicago, IL (PRWEB) October 30, 2014
"Traumatic brain injury, colitis and salient stimuli news," opened Bryan W. Brickner of The Cannabis Papers, "are outdone by even grander news this month: a cannabinoid system nanotechnology first."
In Homeostasis: Publius' (Nano THC) Political Cannabinoid Science, new on the Bryan William Brickner Blog, five 2014 PubMed articles on the cannabinoid system (CS) modulating homeostasis are highlighted, with one from a new political frontier: nanoplatforms for Δ9-tetrahydrocannabinoldelivery. The post cites PubMed articles discussing: THC and traumatic brain injury, colitis and Crohn's disease pathways, the processing of salient stimuli, and a THC nanotechnology first.
"The traumatic brain injury science," noted Brickner, "shows that a patient suffering such injury has a decreased mortality rate if they tested positive for THC after the accident; in other words, a positive pot screening is associated with neuroprotection and living through the injury."
"With colitis and Crohn's disease the news is twofold," Brickner continued. "One on opioid and cannabinoid pathways involved with peripheral neurological dysfunctions; the other provides 'the first evidence that central and peripheral CB receptors are responsible for the protective and therapeutic action of cannabinoids in mouse models of colitis.'"
"The salient stimuli news is also homeostatic," followed Brickner, "as it shows the balancing nature of the CS. For example, the science reports that THC modulates our hippocampus in one way, that CBD modulates it another way, and together the two act to form an aspect of homeostasis."
"And yet," Brickner added, "the CS nano news is its own first, as it reports a move from theory to practice: biocompatible polymeric nanoparticles formulated for oral 'Δ9-tetrahydrocannabinoldelivery.'"
"Typically, I'd say legalization is near," closed Brickner, "though it looks like we'll need a new name for what's coming; the new sanity of CS science, to include herbal, pharmaceutical and now nano-cannabinoids, is clearly part of a bigger (political) picture: Life."
Brickner has a 1997 political science doctorate from Purdue University and is the author of several political theory books, to include: The Promise Keepers (1999), Article the first of the Bill of Rights (2006), and The Book of the Is (2013). The Bryan William Brickner Blog is an ongoing resource for the political science of constitutions and the biological science of receptors.
Tomorrow ~ a Halloween (almost-scary) dialogue on the BWB Blog: Calling Steve About My Halloween Dream Return. Next CS Homeostasis: Veteran's Day and a PTSD edition, Sunday 9 November.
The Cannabis Papers is available at online retailers and for free by download.