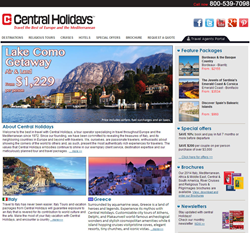 This dedicated portal provides our travel agent partners with a remarkable new set of tools that makes doing business easier and more profitable for them with professional, agent customized sales collateral and exciting training opportunities
Moonachie, NJ (PRWEB) February 28, 2014
Central Holidays today announced the launch of its exclusive travel agent portal, featuring valuable sales tools for traditional and home-based agents with functionality available only by Central Holidays. Travel agents can register for free to become a Central Holidays preferred agent via the "Travel Agents" button located on the homepage of CentralHolidays.com.
The new travel agent portal showcases an easy-to-navigate dashboard where registered travel specialists can have customized brochures and flyers branded with their agency logo created for them in a flash. The finished brochure or flyer is a high-quality piece of collateral to present to clients, ideal for proposal building, group sales presentations, sales support, and more -- all branded exclusively with the agent or agency logo and contact details. Additional resources include access to special FAM trip opportunities as well as a direct link for reviews.
"For more than four decades since the company was founded in 1972, we have remained committed to supporting the travel agent community," said Gianni Miradoli, CEO of Central Holidays. "Featuring resources and functionality exclusively offered by Central Holidays, this dedicated travel agent portal provides our travel agent partners with a remarkable new set of tools that makes doing business easier and more profitable for them with professional, agent customized sales collateral and exciting training opportunities in the destinations that we so passionately present."
All of the functionality is free and easy for agents to use. Here is a glance at some of the resources just unveiled:
CUSTOMIZED MARKETING MATERIALS
By simply uploading their logo and contact information within the Profile tab, an agent is ready to have tailor-made brochures and flyers created for them in an instant. The Central Holidays brochure building functionality enables agents to create customized versions of brochures by selecting the desired destinations and travel programs they wish to include, clicking on "Add the selected package/s to my brochure" then "Generate Brochure" and voila… the automated system does the rest, designing a PDF brochure for immediate download, uniquely branded with the agent's information and logo. To create a flyer, an agent selects the destination and package from the featured drop-down menus and the clicks "Preview Flyer." It's that simple. Agents can even customize their collateral pieces even further by adding a starting from price, notes, and terms & conditions.
With just a few clicks agents can now have access to high-quality marketing pieces branded exclusively with their information, at no cost to them, and available for printing instantaneously.
SPECIAL FAM TRIP OPPORTUNITIES
Central Holidays is pleased to further demonstrate its commitment to the travel agent community by making it easier than ever for travel specialists to acquire insight about the destinations the company serves with more in-destination familiarization opportunities than ever. It's no secret that that there is no better way to acquire insight about a destination than experiencing it hands-on. As such, Central Holidays is showcasing special travel agent familiarization opportunities for its registered agents all featuring air and land pricing at specially negotiated preferred rates via the new travel agent portal.
REVIEWS
As part Central Holidays' ongoing effort to offer the very best service and diverse travel programs that support its brand promises of reliability, expertise, and flexibility, the company encourages agents to share their experiences...in the planning stages, while their clients are traveling, and after they have enjoyed their dream vacations...every step of the way. To further enhance communication, the new travel agent portal includes a special reviews section, where agents can submit their comments and feedback to Central Holidays. Plus, as an added perk, if an agent's review is selected to be featured by Central Holidays on the company's Facebook page, the agent will receive a bonus prize.
To access the new travel agent portal, agents should visit centralholidays.com and click on the "Travel Agents" tab in the upper right corner of the site, then register to become a Central Holidays preferred agent by completing the Profile section and uploading their logo to be able to create customized brochures.
About Central Holidays:
Founded in 1972, Central Holidays offers superior travel programs, value, and service to enchanting destinations across the globe. Destinations include Italy, Spain, Portugal, France, Cyprus, Greece, Turkey, and Croatia. The company also offers dozens of Mediterranean and European river cruise itineraries, worldwide ski programs, religious pilgrimage travel, as well as people-to-people educational exchange travel to Cuba! The company's sister brand, STI by Central Holidays, presents novel travel opportunities throughout Central and South America, Africa, and the Middle East. Central Holidays and its family of travel companies remain at the forefront of the global tourism and travel industry, offering the most diverse range of travel programs that support brand promises of reliability, expertise, and flexibility. For more information, contact Central Holidays at 1-800-935-5000 or visit CentralHolidays.com.