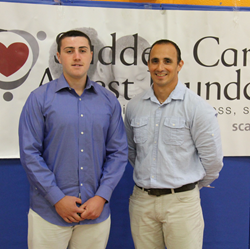 I know I am standing here today because of an AED and individuals who were properly trained.
Lodi, N.J. (PRWEB) October 07, 2014
In recognition of National Sudden Cardiac Arrest Awareness month in October, the Force for Health Foundation and the Sudden Cardiac Arrest Foundation have jointly launched the Student Health Force Chain of Survival Grant Program. The initiative is designed to help high schools in New Jersey meet the requirements of N.J. Law 2072 to teach students CPR and how to use an automated external defibrillator (AED) before high school graduation. The program is also available for other states.
CPR and AEDs are used to treat victims of sudden cardiac arrest. This life-threatening condition affects about 1,000 people each day, including 26 young people. While the average survival rate is only 10 percent, when bystanders call 9-1-1, start CPR, and use the nearest AED (automated external defibrillator), survival rates increase to 40 percent and higher.
The Chain of Survival program debuted at the Boys & Girls Club of Lodi/Hackensack. About 20 Lodi High School honor students attended, along with school and public officials, representatives of N.J. nonprofits, and other guests.
"We believe all students can be a force for health by learning, living, and sharing lifesaving skills," said Rob Gillio, MD, of the Force for Health Foundation.
The program includes an online educational curriculum with lesson plans, lessons, assessments, simulations, and hands-on practice. Students gain access to the free HealthForce app and augmented reality posters designed for learning and real-time coaching in actual emergencies.
As part of the grant, two schools per county in N.J. will receive access to the program at no cost. Lodi H.S. is the first grant recipient. Other schools may apply for the grant here.
"The Student Health Force program is designed to help create a new generation of lifesavers who are ready, willing, and able to help save lives in sudden cardiac emergencies," said Mary Newman of the Sudden Cardiac Arrest Foundation.
According to Assemblyman Benjie E. Wemberly (D-Paterson), a sponsor of NJ Law 2072, "As a legislator and a long-time coach, I wholeheartedly support this effort." Further affirming the new program was Frank Quatrone, Lodi Superintendent of Schools. "It's vital for students to have this type of training," he said. "It can increase the survival rate."
Steven Papa, an athletic trainer at Pascack Hills High School in Montvale, and Anthony Cortazzo, a student-athlete, shared their story during the event. Cortazzo was at track practice last spring when he suddenly collapsed in cardiac arrest. Papa recounted his experience as a rescuer, having helped save the Cortazzo's life by giving him CPR and using the school's AED. "After all those years of practicing and teaching CPR, you never think you are going to need to use it. But then, one day, you do…and you need to be ready," said Papa.
Cortazzo subsequently underwent open-heart surgery and has been given a clean bill of health. Now a senior, he is expected to return to the football field in a few weeks. "I know that I'm standing here today because of an AED and individuals who were properly trained," he said.
In addition to requiring students to learn CPR and how to use an AED before graduation from high school, NJ also requires all K-12 schools to have AEDs on site. The AED Readiness Project, a related opportunity, provides a way for schools and community centers to acquire recertified AEDs at a fraction of the cost of new AEDs.
As part of this program, Newman presented an AED, donated by the Sudden Cardiac Arrest Foundation and Enerspect Medical Solutions, to Michael Nardino, Executive Director of the Boys & Girls Club. He expressed his gratitude, stating that the facility's AED – used to save a bingo player at a club event a few years ago – had been destroyed in a flood in 2012.
For more information, click here.
About the Force for Health Foundation
As a 501(c)3 public charity, the Force for Health Foundation relies on monetary contributions from individuals, foundations, and like-minded organizations to provide student health and wellness education and interventions to schools, where a third of the population is a third of the time.
About the Sudden Cardiac Arrest Foundation
The Sudden Cardiac Arrest Foundation is a 501(c)(3) public charity whose mission is to raise awareness about sudden cardiac arrest and help save lives. Its programs include educational campaigns for schools and colleges.