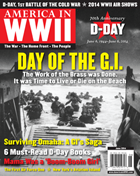 There are graphic, moving quotes from paratroopers, a glider infantryman, army Rangers at Pointe du Hoc, infantrymen, plus a German infantryman.
Harrisburg, PA (PRWEB) May 15, 2014
Nine years ago, AMERICA IN WWII magazine made its debut with a May-June 2005 issue on the Allied victory over Nazi Germany. Now the magazine has started its 10th year with a May-June 2014 issue on GIs' role in making D-Day a success.
The issue appears in a special D-Day-themed display in hundreds of Barnes & Noble stores nationwide starting this week.
"When we started AMERICA IN WWII, it was the 60th anniversary of the 1945 Allied victory in Europe in World War II," remarked Jim Kushlan, the magazine's publisher and founding editor. "Now we're already in the run-up to the 70th anniversary of that victory."
That run-up begins in the June issue with an action-packed narrative of the American role on D-Day—the parachute, glider, and amphibious assault of France's Normandy coast on June 6, 1944. Author Brian John Murphy of Fairfield, Connecticut, who has contributed numerous articles to AMERICA IN WWII magazine since its very first issue, wrote the narrative.
Eyewitness descriptions of D-Day by 12 American GIs punctuate Murphy's article. There are graphic, moving quotes from three paratroopers, a glider infantryman, two army Rangers at Pointe du Hoc, six infantrymen in the assault waves at Omaha and Utah beaches, plus a German infantryman.
One compelling quote, from Private First Class Harold Baumgarten of the 116th Infantry Regiment's Company B on Omaha Beach, brings to life the danger and urgency the Americans faced in their daring invasion of German-held France:
"The…boat on our left was hit by a shell and blew up. The splintered wood, metal, and body parts were raining down on us from about fifteen feet above…. Finally, the boat stopped, and the front ramp went down in neck-deep water…. German MG 42s [machine guns] were trained on our ramp opening…. The water was bright red, from the blood of some of those who had been in front of me."
Photos taken in the midst of the fighting by courageous American coastguardsmen, soldiers, and photojournalists illustrate Murphy's article.
Other D-Day-related content in the June issue includes a first-person account by an infantry machine-gunner who went over the side of his Higgins boat (landing craft) at Omaha Beach on D-Day.
A completely different perspective on D-Day comes from Professor Andrew A. Wiest of the University of Southern Mississippi's Dale Center for the Study of War and Society. Wiest's essay "The First Battle of World War III" asserts that the Allied invasion of Normandy was directed as much against Premier Joseph Stalin's Soviet Union—sweeping quickly toward Germany from the East by then—as against Adolf Hitler's Nazi Germany.
"Perhaps this is historical heresy," writes Wiest, "but I firmly believe that the Normandy invasion had little to do with winning the Second World War…. The invasion had almost everything to do with WHO won the war." So, he concludes, "In many ways the Cold War began on the beaches of Normandy…."
AMERICA IN WWII editor Carl Zebrowski's editorial column in the issue takes up Wiest's Cold War theme in the light of the recent Russian move to annex the Crimean Peninsula.
Other features in the issue include "Mama Was a Boom-Boom Girl," the story of a World War II widow who took a job in a dangerous bomb factory; and "The President Gets His Wings," an account of how Franklin Roosevelt became the first US president to travel by air. The issue also contains a travel article on Long Island's Cradle of Aviation museum, illustrated columns on jump blues musician Louis Jordan and Disney's WWII-era animated films starring Goofy, plus book reviews and a war-era pinup of actress Linda Darnell.
AMERICA IN WWII, now in its 10th year, is a bimonthly magazine about the American experience in the Second World War—the war, the home front, and the people. It is available at Barnes & Noble and Books A Million stores, and select other bookstores.
Subscriptions to the print edition are available at 1-866-525-1945 (toll-free). Digital editions for every handheld device, Mac, and PC are also available; check your device's newsstand or app store, or visit http://www.AmericaInWWII.com/subscriptions for links.
AMERICA IN WWII and AmericaInWWII.com are publications of 310 Publishing LLC of Harrisburg, Pennsylvania, a company committed to telling the stories of history in human terms.