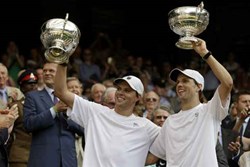 The Davis Cup is an incredible experience to attend, and Ticket Monster has the best deals on tickets!
San Diego, California (PRWEB) January 25, 2014
From January 31st through February 2nd, 2014 tennis fans will get a treat as the United States will play host to Great Britain in the Davis Cup first round match. The three days will feature some of the best tennis in the world at Petco Park in San Diego, California. This is the same baseball stadium that plays host to San Diego Padres games during the spring, summer and fall months. This will be a clay court event (with red clay) and they will use Dunlop Fort Clay Court ball.
Most tennis fans know that clay court tennis is not necessarily the strong suit of the United States players. In fact, it has been since 1999 that an American has won the French Open which is known as the clay court major. In the last decade Rafael Nadal has won 8 of 9 with Roger Federer winning the other. Fortunately, Rafael Nadal will not be playing for the Great Britain Davis Cup team against the Americans in late January and early February.
The Davis Cup captain is Jim Courier and he has selected John Isner and Sam Querrey along with the world's #1 doubles team Bob Bryan and Mike Bryan. This will be a best of five series that will be played on a temporary clay court. The doubles team is not the concern for the Americans but Sam Querrey might be. He is currently ranked #51 in the world. Most people remember John Isner for the epic 11 hour Wimbledon match several years ago.
If you are hoping to get tickets to this event, make sure to use Ticket Monster. For three days San Diego will be consumed with tennis and the Americans will be playing for their country. While this is not as big as the World Cup in soccer it is still an event in which pride is on the line. Look for plenty of Americans to dress in the red, white and blue to support their country.